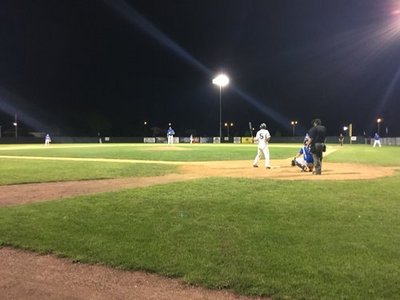 The Albany Dutchmen (6-5) dropped its 4th straight game of the PGCBL season, losing to the Utica Blue Sox (9-4) by a score of 3-2.
The Dutchmen batters performed better than their recent performances, recording 7 hits against the 4 Blue Sox pitchers. Justin Childers (Ohio Dominican University) went 1-4 with an RBI single in the 3 inning. Kyle Skeels (Coastal Carolina University) went 2-4 with 2 singles. Mychael Goudreau went 1-4 with an RBI single in the 5th inning.
While the Dutchmen batters were able to hit, the base running prevented Albany from more opportunities to score. In the 3rd inning, Childers would be picked off after his RBI single to end the inning. In the 5th inning, Cole Malloy (Butler University) would be thrown out trying to advance from 1st to 3rd base on Goudreau's RBI single to end the frame. In the 7th inning, Jon Skidmore would also be thrown out trying to advance from 1st to 3rd base after a Carson Klepzig (University of Mississippi) sacrifice bunt.
The Dutchmen pitchers had very uncharacteristic nights against the Blue Sox hitters. Evan Giles (Indiana State University) went 6 innings and gave up 2 runs on 4 hits and 4 walks. He would strike out 6 in a no decision. The loss would go to Drew Robertson (Baylor University), who would give up a bases-loaded walk to Hunter Losekamp (Sinclair University) in the top of the 7th inning.
The Blue Sox bullpen dominated the Dutchmen hitters late in the game, as the 3 Utica pitchers allowed 0 hits in the final 3 innings. Blue Sox starting pitcher Dylan Gerdts (Marymount University) would receive the win after pitching 6 innings of 2-run baseball on 7 hits and 2 walks. George Navadel (St. Thomas Aquinas College) would be credited with the save.
The Blue Sox travel back to Utica tomorrow, June 17th, for a contest against the Oneonta Outlaws. First pitch is scheduled for 6:35 p.m.
The Dutchmen pack their bags for Glens Falls tomorrow, June 17th, as they play the Dragons for the first time on the road this season. The Dutchmen will return to Bob Bellizzi Field on Saturday, June 18th, as they welcome the Saugerties Stallions for a doubleheader in Albany. The first game will serve as the makeup game for the contest that was scheduled on Sunday, June 5th. That game was postponed due to rain. For Saturday's doubleheader, the Dutchmen will be hosting Werner Ladder Night as well as Baseball Bingo.