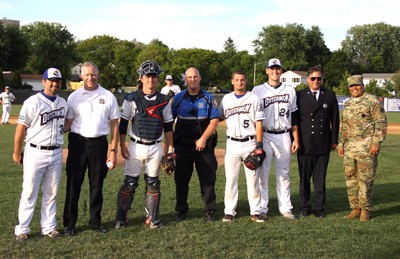 The Albany Dutchmen (9-8) fell to the Saugerties Stallions (7-10) Thursday night, as they couldn't take advantage of 6 Saugerties errors.
Saugerties committed their six errors along five innings Thursday night, allowing multiple Dutchmen opportunities which the hosts could not use to their avail.
The bats were quick to each team's advantage early, as each squad tacked on a single run in the first inning, as Zach DeThomasis (Hudson Valley Community College) doubled home a run for Saugerties and Kyle Skeels (Coastal Carolina University) brought home one of his two teammates off a sacrifice fly, allowing Mychael Goudreau (Azusa Pacific University) to score after he walked with one out and moved to third on a Justin Childers (Ohio Dominican University) double.
Albany took their first lead in the bottom of the 3rd, capitalizing on a pair of Stallions errors to bring home two runs. After Goudreau and Childers had a pair of one out singles, to put runners on the corners, a error by Brian Dempsey (Boston College) allowed Goudreau to score. Dutchmen Head Coach Nick Davey then executed a double steal, and a bad throw into center by Saugerties catcher Andy Karlan (Palm Beach State College) let Childers to score from 3rd and make it a 3-1 game.
Saugerties would then respond quickly, putting up 6 runs across the next 3 innings including 3 in the top 4th, after a pair of RBI singles, including a two RBI one, would give Saugerties the 4-3 lead. In the top of the 5th Saugerties would tack on two more runs as a two more RBI singles made it a 6-3 game, and another RBI single from the Stallions made it a 7-3 game after the top of the 6th.
The Dutchmen were kept quiet the next two innings, before they put runners on 2nd and 3rd with 2 outs in the bottom of the 8th, but a fly out from Jon Skidmore (Dallas Baptist University) stranded the runners there.
The Dutchmen would then try and make a late comeback in the bottom of the 9th, as back-to-back singles from Carson Klepzig (University of Mississipi) and JJ Shimko (University of South Carolina Upstate) put runners on, before a error by the left fielder Adam Chase (Franklin Pierce University) moved the runners up and made it 2nd and 3rd. Goudreau then grounded out making it a 7-4 game, and a Childers sacrifice fly into deep right cut the lead to 7-5. After Cole Malloy (Butler University) then doubled to put the tying run at the plate with 2 outs, Malcolm Nachmanoff (Stony Brook University) grounded out to end the game.
The Dutchmen and Stallions will see each other again tomorrow night at 6:30 in Saugerties, before the Dutchmen return home Saturday to face the Mohawk Valley DiamondDawgs at 7:05 for CDTA Kids in Free and Dutchmen Drawstring Backpack Giveaway Night to the first 250 kids as Baseball Bingo will take place throughout the game.