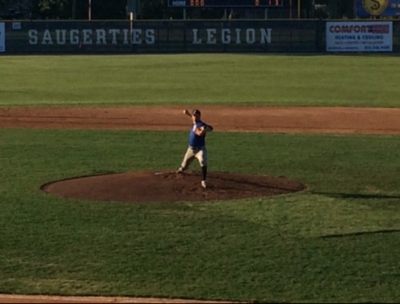 The Albany Dutchmen (10-8) defeated the Saugerties Stallions (7-11) on Friday night in Saugerties by a score of 2-0.
Pitching was the name of the game for both sides, but Evan Giles (Indiana State University) threw a much-needed gem on the mound for a pitching staff that needed a boost, with the Dutchmen having lost six of their previous nine games.
Giles, who was chosen as Recognize Player of The Game for the Dutchmen, bested his counterpart, John Doherty (Ramapo College) by throwing six scoreless innings, while only allowing two base runners on one hit and one walk. At one point, Giles retired 16 straight Saugerties batters. Giles also struck out four batters in the process.
The Dutchmen offense remained mostly dormant, spraying only six hits, but took advantage of six Saugerties errors, which they've committed on back-to-back nights against the Dutchmen.
The two Dutchmen runs were scored by Micah McHugh (University of Mississippi) and Tristen Rojas (Seminole State College of Florida).
McHugh also had a pair of hits on the night. He scored the 2nd run of the night on a wild pitch while he was on third base, giving the Dutchmen pitching staff an extra cushion that they would not need however.
After Giles exited the game, Jeff Rivera (University at Cumberlands) and Troy Montemayor (Baylor University) held the Stallions both hitless and scoreless for the last three innings, with Montemayor receiving the save.
The Dutchmen offense, while not living up to its potential recently, was able to draw three walks along with their six hits, and only struck out once.
But they score when it matters most, and took advantage of the other teams opponent's mistakes, doing what it takes to pull out the victory.
The Stallions continue their road trip as they head to Glens Falls to take on the Dragons Saturday night at 7:00 p.m., before they get a day off on June 26.
The Dutchmen host the Mohawk Valley Diamond Dogs in their home stadium at Bob Bellizzi field at 7:05 p.m.
Saturday will be CDTA Kids In Free Night at Bob Bellizzi Stadium, along with the first 250 kids in receiving a free Dutchmen Drawstring Backpack.