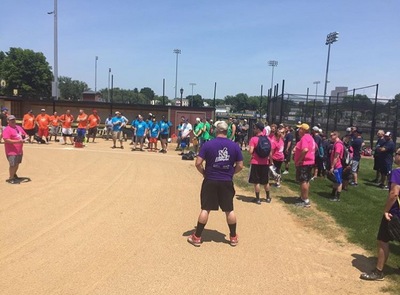 On Sunday afternoon, the Albany Dutchmen hosted the 7th Annual Derek Murphy MVP for MDA Softball Tournament. The slow pitch softball event was hosted at the Christian Plumeri Sports Complex to benefit Derek Murphy, a 15-year old boy who suffers from Duchenne Muscular Dystrophy, and the Muscular Dystrophy Association.




For the 7th straight year, there was a strong turnout of competitors, this year over 100 of them, that formed eight teams for a fun afternoon full of softball for a great cause. Over the seven years of the event, more than $45,000 has been raised on behalf of Muscular Dystrophy.




"We had a great showing of competitors again this year," said Bill DeVoe, a volunteer event organizer for Derek Murphy's family and MDA . "We thank each and every one of them for supporting the MDA and the Dutchmen for being great hosts for this magnificent event."




Following the tournament, the participants headed over to Bob Bellizzi Field to enjoy a night of baseball, as the Dutchmen faced off with the Amsterdam Mohawks in a doubleheader. Along with the free admission they gained to the games, there was a raffle for over 30 great prizes, including a 50" HDTV, a pair of Mets tickets, a one year membership to Planet Fitness, and golf for 4 at Capital Hills at Albany.




"We're humbled to be able to participate in this event each year and raise funds on behalf of Derek's family and MDA," said Jason Brinkman, Dutchmen Vice President and General Manager. "A special thank you goes out to the City of Albany, College of Saint Rose, Bill and Dan DeVoe, National Association of Letter Carriers, and all of our raffle sponsors for making this event possible."




Before the first game, Brinkman presented DeVoe and his brother Dan, also a volunteer organizer for the Murphy family and MDA, a check for over $45,000, representative of the large amount the Dutchmen have raised for the MDA throughout the seven years of the partnership.


"We're so thankful for what the Dutchmen have done for the Murphy's and MDA through the seven years and we're excited for what the future holds for this great event," said DeVoe.