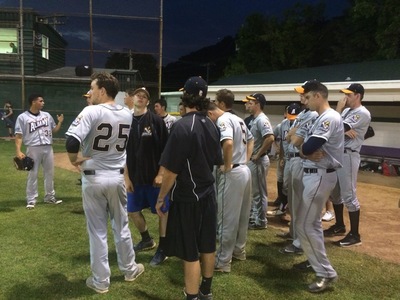 An 8th inning rally by the Albany Dutchmen (11-11) fell just short Monday evening, as the the Dutchmen ended up losing to the Mohawk Valley DiamondDawgs (11-10) 4-3.
The Dutchmen went into the 8th trailing 4-0 with only 3 hits on the evening so far, before Jon Skidmore (Dallas Baptist University) led off with a triple he crushed into right field. Back-to-back RBI doubles from Cole Malloy (Butler University) and JJ Shimko (University of South Carolina Upstate) made it a 4-2 game. After a walk and a groundout put runners on second and third with only one out, a grounder to the shortstop was thrown to second base, but Jack Gethings (Fairfield University) got back in time allowing Shimko to score and cut the lead to 4-3. But after that the Dutchmen could not convert, as Micah McHugh (University of Mississippi) and Mychael Goudreau (Azusa Pacific University) each struck out.
The Dutchmen offense was kept quiet by Mohawk Valley starter Anthony Rupp (Long Island University- Brooklyn) in his solid seven innings of work, as they could not put more than one runner on base at a time throughout his start.
Although Cooper Jones (University of Southern Mississippi) gave the Dutchmen a strong start going four shutout innings, allowing only three hits, one walk and striking out one, the first Dutchmen reliever out of the pen in Michael Maul (Trinity University) would not have the same success, as he allowed four hits to all four batters he faced, including a RBI double and back-to-back RBI singles in the bottom of the fifth. Another RBI single later in the inning from Michael Ketchmark (Dartmouth College) provided the four runs the DiamondDawgs scored on the evening.
The rest of the Dutchmen bullpen was solid though, combining to pitch four innings, while only allowing two hits, one run (unearned), walking two and striking out three batters.
Shimko finished the game going 2-for-4 with his RBI double and a run, while Malloy went 1-for-4 with his RBI double and a run and Skidmore finished 1-for-4 with his triple and run scored.
Mohawk Valley hosts the Saugerties Stallions tomorrow in Little Falls at 6:35.
The Dutchmen have tomorrow off before looking to break their three game losing streak on Wednesday, hosting the Amsterdam Mohawks at Bellizzi Field at 7:05. The Dutchmen will have Web Wednesday- social media promotions- and Guaranteed Win Night, where if the Dutchmen do not win all fans in attendance will receive a free ticket to Thursday night's matchup with the DiamondDawgs.