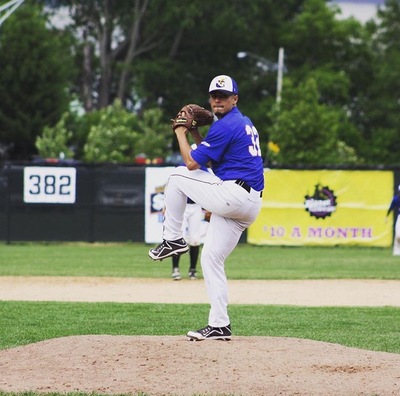 The Albany Dutchmen (15-14) shutout the Saugerties Stallions (10-16) Tuesday night by a score of 4-0.
Dutchmen pitching allowed only three hits on the night, as Dutchmen starter Cooper Jones (University of Southern Mississippi) went five innings of only one-hit ball and Jeff Rivera (University of the Cumberlands) wrapped up the ballgame with four shutout innings of his own, only allowing two hits.
The Dutchmen run scoring would come throughout three innings, as they put a run up in the 3rd and 5th innings each, and in the middle put up two in the 4th.
In the bottom of the 3rd, Cole Malloy (Butler University) and JJ Shimko (University of South Carolina Upstate) would each single to begin the half. A double steal would give the runners 2nd and 3rd with one out, and Justin Childers (Ohio Dominican University) would groundout to short allowing Malloy to score. Shimko would go to third on a passed ball, but Kyle Skeels (Coastal Carolina University) would fly out to deep left-center field and end the 3rd, giving the Dutchmen a 1-0 lead.
The bottom of the 4th would begin as the Dutchmen would load the bases to begin the inning, as a pair of hit by pitches and a single would give Malloy a chance to capitalize. Malloy would seemed to get a handle of a fastball from Saugerties starter Nate Popiel (Dominican College), but it was caught only a couple steps in front of the warning track in left-center, allowing Micah McHugh (University of Mississippi) to score and moving Mychael Goudreau (Azusa Pacific University) to score. Jon Skidmore (Dallas Baptist University) would try and steal second, looking for a throw, and as he got it Goudreau motored home from third to make it a 3-0 game. Skidmore would be caught in a pickle to end the inning.
The final run of the ballgame would come in the bottom of the 5th, as Anthony Forte (Tulane University) would reach on a fielder's choice and score all the way from first as Childers would lace a double into the left-center gap to make it a 4-0 game.
Rivera would take care of the Stallions offense the remainder of the game, allowing only two hits and two walks, while striking out four.
Childers woud lead the way offensively, going two-for-four with his pair of RBI's including his RBI double. Malloy finished went one-for-two with a run and RBI.
Saugerties will remain on the road tomorrow night, traveling to Oneonta to face the Outlaws, as first pitch is set for 7:00 p.m.
The Dutchmen will return to the road travel tomorrow night, going to Glens Falls to face the Dragons at 7:00 p.m. Albany returns home Thursday night to face the Amsterdam Mohawks at 7:05 p.m., as the Dutchmen will celebrate Dutch Heritage Night and All You Can Eat for $10 will take place.