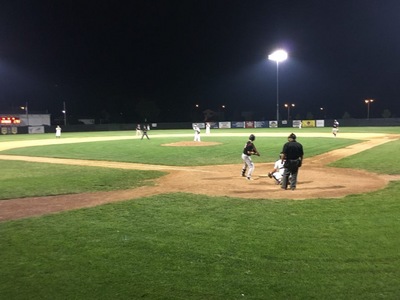 The Albany Dutchmen (16-15) defeated the Amsterdam Mohawks (18-11) at Bellizzi Field Thursday, coming out with the victory by a score of 2-1.
Pitching for the Dutchmen allowed the Dutchmen get the victory, stranding 11 Amsterdam runners on base throughout the game, allowing the Dutchmen offense to narrowly pull out the victory, as they only tallied two runs and three hits.
The Dutchmen would score early, as Malcolm Nachmanoff (Stony Brook University) would begin the 2nd with a hit by pitch and quickly move to third, as Mohawks starter Austin Keen (University of Kentucky)'s pickoff throw was errant. After Kyle Skeels (Coastal Carolina University) struck out, Micah McHugh (University of Mississippi) to deep left field, allowing Nachmanoff to easily score from third to give the hosts a 1-0 lead.
Albany would quickly extend the lead in the bottom of the 3rd, as Cole Malloy (Butler University) would single with one out, and after moving to second on a Jack Gethings (Fairfield University) two-out walk, would come around to score as Justin Childers (Ohio Dominican) dunked a popup just inside the right field line to score Malloy from second, and make it a 2-0 ballgame.
It would take Amsterdam a while to get their lone run on the board, as Dutchmen starter Dylan D'Anna (Siena College) was dominant. Dylan went five plus innings, allowing only three hits and one run, as he walked two and struck out two.
The plus would be in the top of the 6th, as Chris Givin (Xavier University) would take advantage of one of few bad pitches from D'Anna and hit over the wall in left field to cut it to 2-1. Dutchmen Head Coach Nick Davey, would then turn to his bullpen, which would do their job and prevent Amsterdam from scoring any more runs.
Nate Harris (Louisiana Tech University) would be the first man out of the 'pen, as he went three shutout innings, allowing three walks and one walk, while he struck out two and preserved the lead. Troy Montemayor (Baylor University) would register his third save of the season, throwing the final inning.
The Mohawks would look to make a ninth inning comeback, getting back-to-back infield singles from Austin Botello (New Mexico State) and Chris LaVorgna (Franklin Pierce University) with only one out. Montemayor would bounce back however, as he got Givin to popout in foul territory, running off the mound to catch the weak popup, and striking out Tyler Frank (Florida Atlantic University) on three pitches to end the ballgame.
The two teams will see each other once again tomorrow night, this time in Amsterdam, as first pitch from Shuttleworth Park is slated for 6:35. Albany returns home Saturday, as they host the Glens Falls Dragons for Baseball Bingo and Multiple Sclerosis Awareness Night. The Dutchmen will have a free MS Walk at 6:45 to bring awareness to the disease, as anyone who participates will receive a free ticket to a future game. Both teams will also participate as the walk will go around the warning track. The Dutchmen also encourage everyone to wear orange in support of the National MS Society, as $2 for every ticket bought from someone wearing orange will be donated to the Society. There will also be a photo giveaway to the first 200 fans in attendance, as fans will get to choose a picture of either Zach Remillard (Coastal Carolina University), Gavin Wallace (Fairfield University) and J.J. Shimko (University of South Carolina Upstate), courtesy of Stannard Photography.