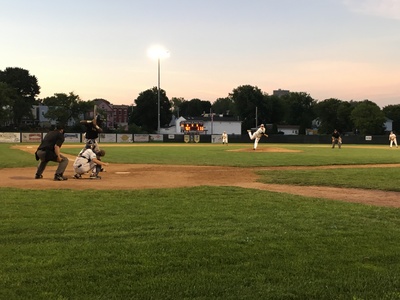 The Albany Dutchmen (18-16) took the victory over the Saugerties Stallions (10-20) by a score of 5-1 on Monday night at Bellizzi Field.
The Dutchmen took advantage of three Stallions errors Saturday night, extending innings and scoring three unearned runs charged to the visitors pitching.
Albany would begin the scoring in the bottom of the first, as Jack Gethings (Fairfield University) led off the game taking a hit by pitch. He moved quickly move up two bases in the next at-bat, going to second on a passed ball and third on a flyout from Jon Skidmore (Dallas Baptist University). After JJ Shimko (University of South Carolina Upstate) took the second HBP of the game and Malcolm Nachmanoff (Stony Brook University) took a walk to load the bases, Micah McHugh (University of Mississippi) would score Gethings on a sacrifice fly to left field. Shimko would be caught stealing to end the first, and Albany would not look back on their 1-0 lead.
Albany would put runners on the corners in the bottom of the second with two outs, and Cole Malloy (Butler University) would steal second, however Saugerties catcher Andy Karlan (Palm Beach State College) would throw the ball into center field with no one covering the bag, allowing Anthony Forte (Tulane University) to score easily from third after his leadoff single, and Malloy to go up to third. After a Gethings walk put runners on first and third again, Gethings would look to steal second and a bad throw down let him slide in safely and Malloy to score, giving the hosts a 3-0 advantage after only two innings.
Saugerties would look to cut into that lead in the top of third, working Dutchmen starter Jack Grabek (Bucknell University) into deep counts constantly throughout his short outing of only three plus innings due to an elevated pitch count. Micah Riddick (SUNY Ulster) would leadoff with a walk, and after moving up on a Jacob Yish (Boston College) single would come around to score on a Richie Barrella (Manhattan College) single to make it a 3-1 game.
The hosts would come back to extend their lead in the bottom of the fourth, as Carson Klepzig (University of Mississippi) began with a walk. He would quickly steal second, and as Malloy laid a perfect sacrifice bunt down, Saugerties pitcher Ben Contento (St. Bonaventure University) threw it away allowing Klepzig to easily score and give extend the lead to 4-1.
The lead would extend once again in the bottom of the fifth, as Justin Childers (Ohio Dominican University) would come off the bench to pinch hit and end up hitting a home run to left field just inside the foul pole, his third of the year, making it a 5-1 ballgame.
Albany's bullpen would not let Saugerties into the ballgame, going six shutout innings, allowing only four hits and two walks and seven strikeouts. Jackson Bubala (Dartmouth College) would be first man out of the bullpen, going two innings while allowing only two hits and striking out two, taking the victory. Joe Pokerentowski (College of Saint Rose) would be next, and his three inning performance would name him Player of the Game. Pokerentowski allowed only two hits and two walks, while striking out five Stallion hitters.
Childers would finish 2-for-2 with a run and RBI off his home run, while Forte would finish 2-for-4 with a run of his own right. Gethings and Malloy would each end 0-for-2, but also walked twice and scored once a piece.
Saugerties has tomorrow off, before returning to action Wednesday to face the Glens Falls Dragons in Glens Falls.

Albany will look to continue their hot streak, winning seven of their last ten, as they visit Glens Falls tomorrow night for a 7:00 game. The Dutchmen return home Saturday to face the Mohawk Valley DiamondDawgs at 7:00 for their 6th Annual Pink Game for American Cancer Society and Susan G. Komen for the Cure, where the team will don special pink uniforms that will be auctioned off during the game to the public, and a huge raffle of over 30 prizes, including Yankee tickets and free rounds of golf, will also take place during the evening.