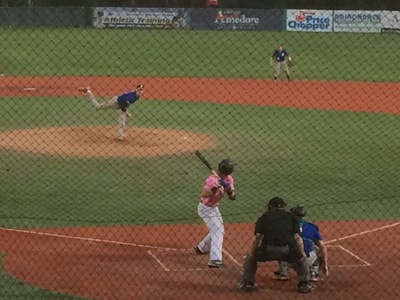 The Albany Dutchmen (21-18) defeated the Amsterdam Mohawks (28-14) by a score of 6-1 Friday night, using a phenomenal start from Gavin Wallace (Fairfield University) to lead the Dutchmen to the victory.
\Wallace would provide arguably the best start a Dutchmen starter has had this season, going seven shutout innings while allowing only two hits and one walk, striking out six Mohawk batters. Wallace would also be very efficient with his pitches, using only 85 pitches on the evening.
Albany would open up the scoring in the fourth inning as Cole Malloy (Butler University) would lead off the inning with a homer over the left field wall, his first blast of the season.
The Dutchmen would build off that lead in the next frame, putting up four runs to give Wallace plenty of insurance. Albany would put runners on second and third with two outs, and a wild pitch from Amsterdam starter Griffin Roberts (Wake Forest) would allow Mychael Goudreau (Azusa Pacific) to score, and Malloy would walk putting runners on the corners. Justin Childers (Ohio Dominican University) would then send a line drive right to Amsterdam center fielder Terrence Pinkston (Norfolk State University), but Pinkston would not be able to handle it, allowing both runners to score and Childers to get to third with the Dutchmen then leading 4-0. John Novenche (Canisius College) would follow with a RBI single to score Childers and extend it to 5-0.
Albany's offense would be held quiet by Johnny Malatesta (New Jersey Institute of Technology) for the next two innings, but Wallace would be doing the same on the other side, as Wallace would set down 13 straight from the bottom of the third through the end of his start in the bottom of the seventh.
Bray Curreri (College of Saint Rose) would double with one out in the ninth, and JJ Shimko (University of South Carolina Upstate) would single him home to give Albany a 6-0 lead after the top of the ninth.
Albany could not complete the shutout however, coming one out away from keeping a donut in the run column for the Mohawks. Chris Givin (Xavier University) would single with one out, and after moving to second on defensive indifference, would motor home to score on a Joe Genord (University of South Florida) double. Nick Patten (University of Delaware) would follow with a single, but Jackson Bubala (Dartmouth College) would strike out Teddy Cillis (Hofstra University) looking to end the ballgame.
Shimko would be the offensive leader from the leadoff spot, going 2-for-4 with a double, a run, a walk, and his RBI single. Malloy would finish 1-for-4 with two runs, a walk, and a RBI coming off his solo home run, hitting right behind Shimko. Novenche would go 2-for-4 with a double and his RBI single hitting cleanup on the evening.
Amsterdam will hit the road tomorrow night, visiting Mohawk Valley for a 6:35 matchup as they go away from home for four of their next five games.
Albany returns home tomorrow night as they host the Glens Falls Dragons in a doubleheader at Bellizzi Field beginning at 5:05, for Baseball Bingo, Phillips Hardware Night, and Multiple Sclerosis Night. Phillips Hardware will provide True Value Paint Giveaways and Demos, as the Dutchmen will have a free MS Walk at 4:45 to bring awareness to the disease, as anyone who participates will receive a free ticket to a future game. Both teams will also participate in the walk which will go around the warning track. The Dutchmen also encourage everyone to wear orange in support of the National MS Society, as $2 for every ticket bought from someone wearing orange will be donated to the Society. There will also be a photo giveaway to the first 200 fans in attendance, as fans will get to choose a picture of either Zach Remillard (Coastal Carolina University), Gavin Wallace (Fairfield University) and J.J. Shimko (University of South Carolina Upstate), courtesy of Stannard Photography.