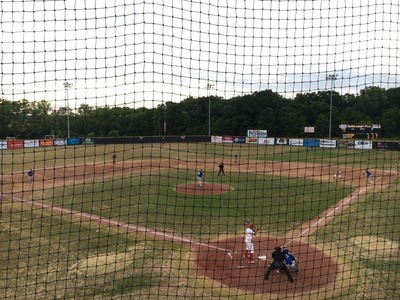 The Albany Dutchmen (23-19) defeated the Geneva Red Wings (9-35) by a score of 4-3 Sunday night in Geneva.
Kale Morton (Azusa Pacific University) made his eighth start of the season and finally collected his first win of the season. The lefty went six strong innings, allowing no runs on four hits, while striking out five.
Both teams were scoreless heading into the 7th inning, when the Dutchmen bats came to life. The Dutchmen had the bases loaded after a fielder's choice, a single, and a walk by John Novenche (Canisius College), Jack Gethings (Fairfield University), and Kyle Skeels (Coastal Carolina University), respectively.
With two outs, Mychael Goudreau (Azusa Pacific University) and Jon Skidmore (Dallas Baptist University) both drew walks that would bring in a run, giving Albany a 2-0 lead.
JJ Shimko (University of South Carolina Upstate) drove a single that would score Skeels and Goudreau, making it 4-0.
Four runs would be just enough as the Dutchmen bullpen was shaky after replacing Morton.
Joe Pokrentowski (College of Saint Rose) gave up a run in the 7th inning, but preserved the lead after getting out of a bases loaded jam.
Jack Owens (Bryant University) would keep the game 4-1 after the 8th inning. However, he could not do so again in the 9th.
After looking very comfortable retiring the first two batters he faced in his second inning of work, something he hadn't done up to that point in the season, Owens looked to get the two-inning save. But despite having the Red Wings down to their final strike twice, he allowed a walk and back-to-back-to-back hits that brought the Dutchmen lead down to one run.
Jeff Rivera (University at Cumberlands) came in for the one-out save and struck out the lone batter he faced, giving him his fifth save of the season.
Geneva will head on the road to Victor tomorrow when they will play the RailRiders at 5:00 p.m.
Albany will also stay on the road as the play the Oneonta Outlaws in Oneonta at 7:00 p.m. The Dutchmen can secure a playoff spot in the PGCBL East Division Monday night with a victory, as their magic number to clinch is down to one.