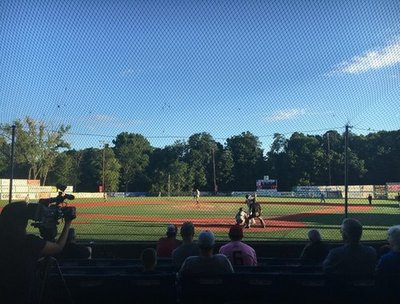 In a first game of a best-of-three series, the Albany Dutchmen lost to the top-seeded Amsterdam Mohawks 8-4 on Wednesday Night at Shuttleworth Park.
Both teams traded blows throughout the game. Amsterdam opened the scoring in the bottom of the first when Andruw Gazzola (Stony Brook University) ran home on a wild pitch by Evan Giles (Indiana State University). Albany came right back with an answer in the when Jon Skidmore (Dallas Baptist University) had an RBI groundout to shortstop.
Giles finished the night with after 4.2 innings allowing eight hits, two earned runs, four walks and five strikeouts.
The Dutchmen exploded in the fourth frame, scoring three runs to take a 4-1 lead. But the Mohawks followed that up with a two run inning of their own, cutting Albany's lead to one.
As quickly as the Dutchmen's bat came alive, they faded, as they failed to score a run for the rest of the game. With the door open, Amsterdam made the most of their opportunities.
In the sixth inning with Albany reliever Jackson Bubala (Dartmouth College) on the mound, Chris Givin (Xavier University) hit an RBI single to tie the game at 4-4. Then three batters later, with the bases loaded, Bubala walked Nick Patten (University of Delaware) scoring what would eventually be the game winning run.
Bubala was given the loss as he went 2.1 innings recording five strikeouts, three hits, two walks and two earned runs.
The Mohawks tacked on three more runs in the eighth inning to push the score to the eventual 8-4 final.
Amsterdam was led at the plate by Givin, who went 3-4 with two RBIs and two runs. For Albany, Jack Gethings (Fairfield University) went 1-3 with an RBI and a walk.
With the win, the Mohawks take a 1-0 series lead. They only need one more win to advance to the PGCBL Championship series. For Albany, every game from here on out is win-or-go-home.
Game Two will be played Thursday at Bob Bellizzi Field in Albany at 7:05 p.m.