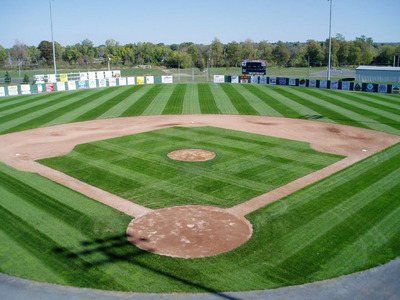 The Perfect Game Collegiate Baseball League is proud to announce that summer collegiate baseball will be returning to the Alex T. Duffy Fairgrounds in Watertown, New York. At the league's Board of Directors meeting on Saturday, Oct. 29, the owners formally awarded a franchise to Michael Schell and Paul Velte.
"We have been looking for the right owners run a franchise in Watertown. We have hit a grand slam with Mike and Paul," commented PGCBL President Jeff Kunion. "Both men have an extensive amount of baseball franchise ownership experience in the A-level New York Penn League. We know they are ready to develop a strong team on and off the field."
Michael Schell is a retired attorney who owned and operated the Watertown Indians, the "A" level affiliate of the Cleveland Indians, for eight years. Paul Velte has been involved in minor league baseball for more than 40 years. His baseball career started as the GM, then owner of the NYPL Geneva Cubs. His last 22 years in the NYPL he was owner of the Williamsport Crosscutters, the short season Class "A" affiliate of the Philadelphia Phillies. He is the only front office executive to have been inducted into the NYPL Hall of Fame, entering that exclusive club in 2015 with Don Mattingly and Jim Leyland.
"I'm very excited to be working with the Perfect Game Collegiate Baseball League and the City of Watertown to bring baseball back to my hometown. We look forward to joining the Watertown Red & Black football team and the Watertown Wolves hockey team as proud, successful Watertown sports franchises. Paul and I will work over the coming year to build a strong organization that will be ready for the 2018 season and for many years thereafter," stated co-owner Mike Schell.
Paul Velte added: "The Perfect Game Collegiate Baseball League has a great reputation throughout baseball as a quality league, with top notch talent from all over the country. We are honored that the league Board of Directors has voted to return Watertown to the league with Mike and I as owners of the franchise. I know the people of the Watertown area are great fans when given a quality product, and we look forward to providing them with a great baseball experience."
The Watertown team, which will announce their name in the future, will play their first game in June 2018.
Entering its seventh season, the PGCBL will field 14 teams, playing a 50-game schedule in 2017. Last season more than 140 PGCBL alumni were playing professional baseball.
The PGCBL is affiliated with Perfect Game USA, the largest independent scouting service in the country. Last year more than 1,400 professional ballplayers were either alumni of the PGCBL or Perfect Game.