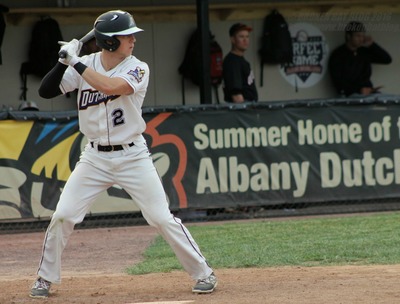 Following the most successful season in franchise history, it's only natural the Albany Dutchmen would seek to bring back a strong nucleus of returning players for the 2017 season. Indeed, the Dutchmen are pleased to announce the signing of four 2016 Dutchmen to the upcoming season's roster. Position players Justin Childers and Jon Skidmore, as well as pitchers Jack Grabek and Ryan Steffens, will be returning to Albany this summer. The re-signing of these four players brings a veteran presense to the Dutchmen, as well as a strong start to both the lineup and the pitching staff.
Leading the class of returners is reigning co-Player of the Year Justin Childers of Ohio Dominican. The utility man was a 2016 PGCBL All-Star, as well as a First Team All-PGCBL selection. He posted one of the more prolific seasons in franchise history, placing in the top five in hits, runs batted in, and total bases in Dutchmen single-season history. The current junior hit .321 last season in Albany, and played in all but one regular season game for the Dutchmen. He was also the team's leading power hitter a season ago, belting three of the Dutchmen's seven home runs. Childers is coming off a standout season at Ohio Dominican, where he hit .327 with a team-best 45 runs scored and eight home runs. The return of Childers to the ranks of the Dutchmen immediately adds a dangerous bat to Nick Davey's lineup.
Dallas Baptist's Jon Skidmore is another 2016 mainstay who will be returning for a second stint in a Dutchmen uniform. Skidmore saw action in 38 of the 48 Dutchmen regular season games, recording 18 hits. The infielder's best attribute was his plate discipline, as he drew 27 walks, the third highest total in Dutchmen history and a top ten total in the PGCBL last season. Skidmore also stole nine bases last season. He is entering his first season of eligibility at Dallas Baptist after transferring from Baylor. Skidmore was one of the top ten shortstops in the state of Texas coming out of high school in Dallas, where he was an Honorable Mention All-State selection. Skidmore was named an Honorable Mention All-American by Perfect Game in 2015.
Returning to the pitching staff is lefthanded starter Jack Grabek from Bucknell. Grabek became one of nine pitchers in Dutchmen history to accumulate four wins in a season, and posted a 4.19 ERA in 34.1 innings on the mound. The lefty had a phenomenal June for the Dutchmen, going 3-0 with just two earned runs allowed over 22.1 innings. During that time, he struck out 23 hitters and walked only ten. Grabek was solid in his freshman season at Bucknell, which included a Patriot League Rookie of the Week honor after shutting out Yale for 8.1 innings. He was a Sunday starter for the Bison throughout conference play. The Guilderland product was named Second Team All-Capital District in high school, and brings a veteran presense and a local flavor to the Dutchmen pitching staff.
Rounding out the returners is freshman Ryan Steffens, who is beginning his rookie season at Southern New Hampshire. Steffens joined the Dutchmen in mid-July, making four regular season appearances and a bullpen outing in the playoffs. Steffens did not allow a run in his first three outings, which included a win over Oneonta on July 25. He recorded a 2.25 ERA over his eight innings. Steffens, a product of Commack, New York, was ranked as one of the top 40 players in New York, and the 12th-ranked righthanded pitcher, in the Class of 2016 by Perfect Game. Perfect Game also recognized him as a Northeast Region Honorable Mention selection.
The re-signing of Childers, Skidmore, Grabek, and Steffens gives Dutchmen fans some familiar faces to root for this season, and will serve as a foundation for the incoming Dutchmen, some of whom will be getting their first taste of collegiate summer baseball.