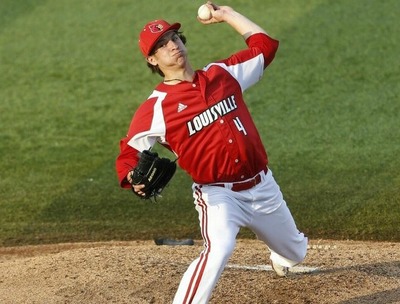 With a 33-6 record, the Louisville Cardinals are the #2 team in the country. Louisville's success is due in large part to the caliber of players they bring in each year, who help the Cardinals compete for a spot in the College World Series year after year. The Albany Dutchmen are proud to announce three Louisville Cardinals will be playing for the club this summer at Siena Field: Adam Elliott, a two-way outfielder and left-handed pitcher, and right-handed pitchers Daniel Fischer and Mac Welsh.
Adam Elliott
(6-0, 185 pounds), a freshman, has been one of Louisville Head Coach Dan McDonnell's best weapons out of the bullpen. Elliott hasn't allowed a run all season through 16.1 innings. In his 12 appearances, he's grabbed one win, allowing only 8 hits and 4 walks, while striking out 15 hitters. Elliott hasn't allowed an extra base hit all year, and opponents are only hitting .145 against the lefty. Louisville is 10-2 in games Elliott has thrown in. He serves as a two-way player for Louisville as well, capable of playing all three outfield spots, but is a natural center fielder. Elliott's two-way prowess will be a key in Louisville's run to Omaha. He's proven himself on the mound already, and he came to Louisville after hitting .361 in his senior year at St. Xavier. As a prep player in Louisville, Elliott earned All-State honors as well as Kentucky State Tournament Most Valuable Player, helping lead St. Xavier to state titles in 2014 and 2016.
Daniel Fischer
, a freshman exercising his redshirt year, is a big-bodied right-handed pitcher (6-3, 185 pounds), who played at the same high school as Elliott — St. Xavier in Louisville, where Fischer was a member of the 2016 state title winning team. At the time of his commitment to the Cardinals, Fischer was the No. 6 recruit in the state of Kentucky. Much of that has to do with his fastball, that he pushes up over 90 miles per hour and a devastating changeup to pair with it. Fischer was named a 2016 Rawlings-Perfect Game Honorable Mention All-American and Central All-Region second team member.
Mac Welsh
, a sophomore also using his redshirt this season, is another tall right-hander (6-4, 191 pounds) the Dutchmen will feature this summer. Welsh, the Walton, Kentucky native, was a two-time letterwinner at Ryle High School, and helped the team qualify for the state tournament in 2013. Welsh's father, Chris, played professional baseball from 1977-87, winning 22 games on the mound as a left-handed pitcher in the big leagues, accumulating a 4.45 ERA over that time. He is now a sportscaster for the Cincinnati Reds. Mac Welsh is a true example of a student-athlete, as his career aspirations after baseball include working in space exploration and plans to graduate with a degree in mechanical engineering.
Elliott, Fischer, and Welsh aren't the first players from a top Louisville team to call Albany home over the summer. In 2015, Michael Bollmer, who is now a senior first baseman for the Cardinals, played for the Dutchmen, collecting 15 hits and smashing three home runs. Last season, JD Mundt pitched for the Dutchmen as well. Mundt is a redshirt freshman at Louisville this season.
The Dutchmen are excited to bring these three Cardinals and their winning pedigrees to the club this summer.