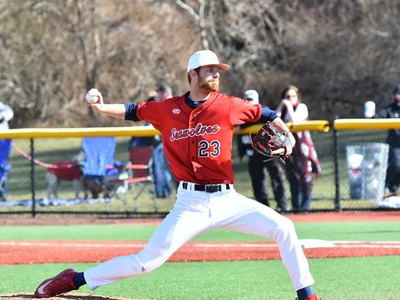 Georgetown's Jeremiah Burke stands at 6-feet 2-inches. He's the shortest of the three pitchers the Albany Dutchmen have recently signed out of the Northeast. Stony Brook's Greg Marino stands at an intimidating 6-feet 6-inches. Peter Horn, out of Fairfield, stands in the middle of Burke and Marino at 6-feet 3-inches. Each of these pitchers have played a big role on their teams this spring, and each are set to have an even bigger role for the Dutchmen on the mound this summer.
Greg Marino (Stony Brook) will be a member of the Dutchmen's starting staff, a role he has been used to this spring as a member of the Seawolves. Marino has eaten up a lot of innings this spring for Stony Brook, a team only five years removed from a trip to the College World Series. Over 14 appearances and 5 starts, he's thrown 52.1 innings, third most on the squad. Over that time, the redshirt freshman has averaged more than one strikeout per inning, tallying 53. Marino was tabbed the American East Rookie of the Week on April 4 after throwing 6 innings, allowing only 1 run on 6 hits and 8 strikeouts against UAlbany. He's also a very athletic player in his 6-6 frame. In high school, Marino split his playing time between shortstop, first base, and on the mound.
Peter Horn (Fairfield) has been a valuable piece out of the Stags bullpen in his sophomore season. He's proven that he can be stretched out of the pen, and has even made one start. Over 14 appearances, he's tallied 23.2 innings, accumulating a 4.18 ERA over that time. On top of the one start, Horn has also earned one save this season. His versatility on the mound will make him an ultimate utility pitcher for Dutchmen head coach Nick Davey this summer. In his freshman season, Horn threw a scoreless inning against eventual College World Series participant Texas Tech in an NCAA Regional contest.
Jeremiah Burke (Georgetown) has thrown in 9 games for the Hoyas this season, totaling 9.1 innings. Georgetown has registered a winning record this season, currently sitting at 27-25 in the Big East Conference. Burke, a Delmar, New York native, will be pitching for the Dutchmen only 20 minutes from his hometown.
Marino, Horn, and Burke are all dynamic additions to the Dutchmen roster, and each will help out at every level of the game. All three right-handers bring a culture of winning from their college teams, and will carry that on this summer with the Dutchmen.