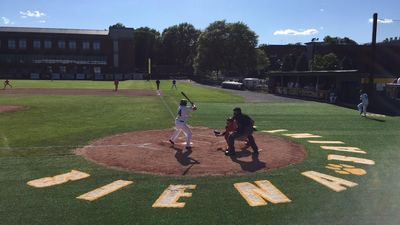 After three consecutive rainouts, the Dutchmen did battle with defending champion Amsterdam Mohawks last night at Siena College Field. It seemed as though the rest did the Dutchmen players well when the team jumped out to a quick 1-0 lead in the bottom of the first after Griffen Herrera (Azusa Pacific) doubled, stole third, and scored on a groundout by reigning Dutchmen MVP Justin Childers (Ohio Dominican).
The Dutchmen were able to add another run in the bottom of the second after Brandt Holland (North Alabama) walked, stole second, and came in to score on a double by Zach Durfee (Siena). However, the Mohawks were able to get to Dutchmen starter Daniel Fischer (Louisville) in the top of the third, plating a run, before Childers delivered for the Dutchmen again, homering off Amsterdam starter Ben Anderson (Binghampton) to put the Dutchmen up 3-1.
However, the lead was short-lived as Fischer began to struggle with his command before being pulled after back-to-back walks in the fourth inning. The Louisville freshman finished the day with 3.1 innings pitched, allowing four hits and one run, while walking five Mohawks. He was relieved by two-time Dutchmen Jack Grabek (Bucknell), who was able to get out of trouble with back-to-back strikeouts in the 4th inning, before allowing two runs in the 5th to tie the game 3-3.
The Dutchmen quickly answered to take back the lead in the bottom of the 5th. After a Herrera single, Chase Allen (Limestone) doubled, then both Trace Tyre (Ole Miss) and Holland walked to bring in Herrera with the go ahead run. Yet, the Mohawks were up to the task, chasing Grabek in the top of the 6th with a single, walk, and a two-out RBI single.
With the game knotted at four, both teams' bullpens got to work. The Dutchmen ran Mike Pepio (East Stroudsburg). Jeremiah Burke (Georgetown), JD Mundt (Louisville), and Justin Bureau (Ave Maria) out for 4.1 innings of shutout baseball, including seeing both Pepio and Mundt strikeout the side. Meanwhile, the Mohawks answered with 4.2 innings of no runs from Brooks Knapek (UMass) and Justin Reed (Indiana).
With the Dutchmen coming to bat in the bottom of the 11th, the darkness closed in on Siena College and the umpires determined that the game needed to be postponed. At the time, the Dutchmen were paced by Tyre, who was 2-3 with two walks, and both Allen and Herrera, who were 2-5.
The remaining innings, however many are needed until a victor emerges, will resume on July 2nd.
In the meantime, the Dutchmen will return home on Thursday at 5:05pm against the Adirondack Trailblazers for State Worker's Night in which ALL state workers will get in free and receive 2 for 1 happy hour on Saratoga Eagle Budweiser products.