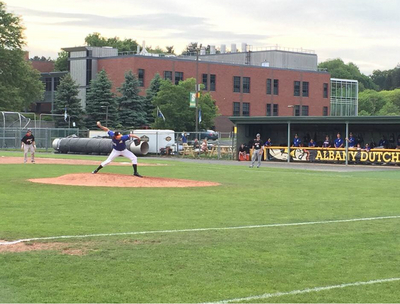 June 8th, 2017
ALBANY, N.Y. – After carrying a team no-hit bid into the eighth inning, the Dutchmen bullpen surrendered a one run lead allowing the Trail Blazers to put three runs on the board in the 9th, taking down Albany 3-1.
Jeff Lonnecker (Trinity) left the ninth with one out and a runner on first and Mac Welsh (Louisville) came in and allowed a Danny Abate (Monmouth) RBI single and a 2RBI single from Chuck Hooker (Alderson Broaddus) to put the Trail Blazers ahead for good.
Lonnecker is charged with the blown save and Welsh given the loss.
In the bottom of the ninth inning, the Dutchmen got the winning run to the plate after consecutive walks by the Trail Blazer's pitcher Matt Vallin (Onondaga C.C.)
With the game on the line, pinch hitter Nick Estrella (Azusa Pacific) took a called strike three to end the ball game handing Albany its second loss of the season.
The Dutchmen scored its lone run in the third inning on a Peyton Sockwell (North Alabama) sacrifice RBI groundout that scored Nick Gallo (Oklahoma State).
Relief pitcher Nick Bruno (Siena) was named tonight's Albany Clothing and Promotion's Company Player of the Game coming into the game in the 3rd inning and pitching four scoreless innings, striking out four batters, and keeping Albany's no-hit bid alive.
Bruno says that despite the loss, his team pitched well and his offense will be better in the future.
"We're a lot better than one run a game and I think it will start to show," Bruno said.
The Dutchmen are in action again Friday, hosting the Utica Blue Sox at Siena Field with first pitch set for 5:05 p.m.
Friday's game is Siena Night, all Siena alumni, staff and students receive free admission.
Fans can also enjoy two for one draft beers from C. H. Evans Brewing Company from 4-5 p.m. at the ball park.