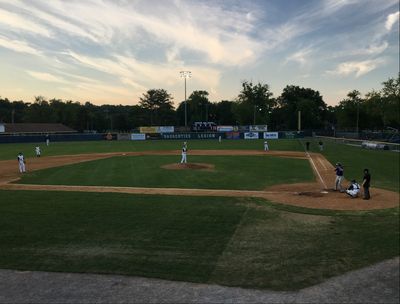 SAUGERTIES, N.Y. - The Dutchmen win Saturday in Saugerties, marking their first road win of the season.
Through the first two innings, the Dutchmen seemed to have met their match, as Saugerties fired back each of their first two runs with two runs of their own.
Tommy Miller (Siena) provided the Dutchmen with a solid outing off the mound, exiting after 5 strong innings, giving up the 2 previously mentioned runs in those first 2 innings.
Albany went ahead in the 4th inning with an amazing performance on the bases. Colin Kaucher's antics on the bases caused Saugerties pitcher Jason Antalek (Iona) to balk, eventually bringing him across the plate on a single by Nick Gallo (Oklahoma State). Another run was added later in the inning, as a stolen base Gallo put him in scoring position, eventually allowing him to score off a single by Nick Estrella (Azusa Pacific).
The key to the win was a strong performance by the Dutchmen bullpen, as Jeremiah Burke (Georgetown) and Justin Bureau (Ave Maria) combined for 4 innings, allowing 2 hits while striking out 6 batters.
Albany snaps Saugerties 3-game winning streak, as they improve their record to 3-2, putting them above .500 for the first time this season. Saugerties will fall to a 3-3 record on the season.
Albany will return home tomorrow night to take on the Adirondack Trail Blazers for the second time this season at 5:05pm for SEFCU Heroes Night where all Military, Police, Fire, EMT and their families will receive free admission to the game and all fans in attendance will receive a baseball poncho, courtesy of SEFCU.