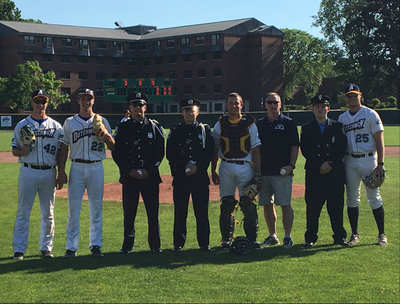 June 11th, 2017
ALBANY, N.Y. - With the bases loaded and two outs in the bottom of the ninth, a Matthew Valin (Onondaga C.C.) wild pitch allowed Brad Gneiting (Rice) to bolt home from third base and score the game winning run sliding head first into home plate.
The walk off win gave the Dutchmen their third straight win on SEFCU Heroes Night by a score of 5-4.
A Nick Gallo (Oklahoma St.) leadoff double in the ninth set the stage for the Dutchmen to avenge Thursday's 3-1 loss to the Trail Blazers.
Sloppy defensive play was the theme as Albany and Adirondack combined for seven errors.
Mike Delease (Central Conn. State) got the start for the Trail Blazers pitching seven solid innings, however his team's fielding blunders allowed four runs to score, with only one being earned.
For the Dutchmen, Jack Grabek (Bucknell) was on the mound, hurling five strong innings, striking out four and allowing two runs, one earned.
Grabek was relieved by Roel Garcia (Rice) who pitched two scoreless innings allowing just one hit while striking out two. He was named the Albany Clothing and Promotion's Player of the Game.
Garcia joined the team two days ago and says his success on the mound in his debut was due to an empty mind.
"I just started off by pitching without any thoughts in my mind," Garcia said. "I tried to throw the ball where I had to and it worked out for me."
The Dutchmen were leading the ball game 4-2 after Garcia left the game but J.D. Mundt (Louisville) and Mac Welsh (Louisville) combined to give up two runs back in the seventh inning, tying the game.
Louisville advanced to the College Baseball World Series Saturday where Welsh and Mundt red shirted this season. Adam Elliot is still pitching for the Cardinals but will be joining Albany after Louisville's season ends.
Matt Pierce (Siena) came in to get the last out in the eighth and stop the bleeding. He also pitched a scoreless ninth.
The Dutchmen have an off day tomorrow and travel to take on the Amsterdam Mohawks Tuesday evening.
Albany is back at Siena Field for NYSPHSAA High School Student Athlete Night Thursday night against the Mohawk Valley Diamond Dawgs, first pitch set for 5:05 p.m.