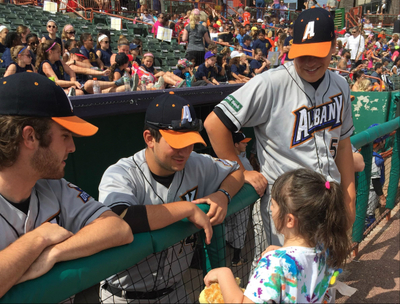 June 15th, 2017
After taking a 3-2 lead on a wild pitch in the eighth inning, the Albany Dutchmen escaped out of a ninth inning jam to defeat the Tri-City ValleyCats in their annual exhibition.
The ValleyCats threatened in the ninth inning with one runner on base when pinch hitter Frankeny Fernandez blasted what would have been a game winning two-run homer down the left field line, had it not gone foul by inches.
After Fernandez was walked to put two runners on base with one out, JD Mundt (Louisville) retired the final two batters of the game to record the save.
The Dutchmen struck in the eighth inning using a leadoff double down the line by pinch hitter Justin Decker (Dominican) and a sacrifice bunt by Colin Kaucher (Ohio Dominican) to advance the go ahead run to third base.
Following an intentional walk to Zach Durfee (Siena), relief pitcher Diogenes Almengo uncorked a wild pitch that allowed Decker to score what would ultimately be the winning run.
Albany started the game off with a bang, getting on the board first off of starting pitcher Felipe Tejada with a two-run double down the left field line by Chase Allen (Limestone).
Tri-City fought back against starter Greg Marino (Stony Brook) using solo homers by Troy Sieber and Luis Payano in the second and third innings respectively.
Marino pitched six innings of two run baseball, working in and out of jams to keep the Dutchmen's hopes alive.
Albany's bullpen was lights out once again, as Deaven Phillips (Ave Maria) and Mundt finished the game with three scoreless innings.
The Dutchmen return home tonight at 5:05 to take on the Mohawk Valley Diamond Dawgs with first place in the PGCBL East Division on the line.
The teams are in a virtual tie with Albany's record standing at 6-2 and Mohawk Valley's record standing at 7-3.
The game will mark NYSPHSAA High School Student Athlete Night and will also feature giveaways from the American Dairy Association.