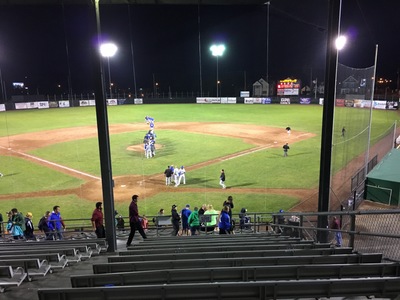 June 16th, 2017
The Dutchmen down the Utica Blue Sox by a score of 7-5 to extend their winning streak to an impressive 6 games, which ties the franchise record. This win puts Albany at a 7-2 record, trailing only Jamestown for the best record in the PGCBL.
Albany stormed ahead in the top of the 3rd, where they tacked on 4 runs off Jared Tietgen (Rio Hondo C.C.), and another run off Riley Moore (Diablo Valley College).
Utica was able to fight back, getting back a run in the bottom of the 3rd before putting up a 3 spot in the bottom of the 5th despite only gaining 1 hit off a Justin Tavares (Mansfield University) double.
Jeremiah Burke (Georgetown) logged 4 solid innings, giving up 1 run on 5 hits with 1 strikeout before being relieved by James Rabino (Seton Hall). Rabino struggled in relief, giving up 3 runs which allowed Utica to get back into the game.
Matt Pierce (Siena) and Mac Welsh (Louisville) combined for 3.2 innings of solid pitching after the disastrous 5th inning for Albany, helping them maintain their 7-5 lead heading into the bottom of the 9th.
J.D. Mundt (Louisville) came in to close the game in the 9th for the Dutchmen and succeeded, recording his first save on the year.
On offense for Albany, first baseman Trace Tyre (Ole Miss) had an enormous day, extending the hot streak he has been on the entire season, going 4-5 with an RBI. Left fielder Brandt Holland (North Alabama), catcher Colin Kaucher (Ohio Dominican) and shortstop Peyton Sockwell (North Alabama) each recorded an RBI in tonight's contest as well.
Albany will have an early start tomorrow, as they will make up a previous contest against the Glens Falls Dragons from June 2nd that was cancelled due to rain. First pitch will be at 3PM, and they will play their regularly scheduled contest after the first game has ended. The Dutchmen will look to improve upon their franchise best 6-game win streak and increase their lead on the Mohawk Valley Diamond Dawgs in the East Division.