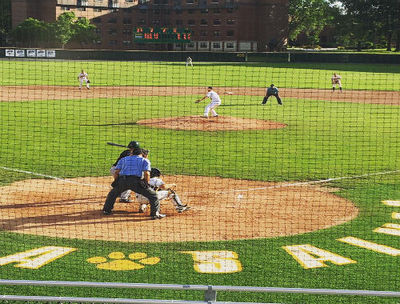 The Albany Dutchmen (10-3) resumed their winning ways following Sunday's win-streak ending loss to the Adirondack Trail Blazers, as they took out their frustrations in a 10-0 win over the Glens Falls Dragons (5-9).
The Dutchmen got the ball rolling immediately in the first inning as following a walk and a single respectively by Brad Gneiting (Rice) and Nick Gallo (Oklahoma State), the aggressive approach on the base paths began for the Dutchmen. Gneiting and Gallo completed a double steal with one out, which allowed Gneiting to score on a two out wild pitch by Will Van Beusekom (Marist). After Chase Allen (Limestone) walked, he tried to steal second and purposely tried to get caught in a rundown to allow Gallo to score. Gallo was safe at the plate on a bad throw by second baseman Mark Powell (St. Rose).
Albany was far from finished, as Nick Estrella (Azusa Pacific) delivered a two-run single in the fifth inning to extend the Dutchmen lead to 5-0 and chase Van Beusekom.
Relief pitcher Chris Paiva (Eckerd) walked the bases loaded in the bottom of the sixth with two outs, and Ryan Cummings (St. Joseph) entered into the game only to allow a two run single by Justin Decker (Dominican).
The Dutchmen capped off the evening's scoring on a three-run homer to left field by Allen, his first with Albany.
A key component of the victory was great base running by the Dutchmen, as they swiped six bases off of catcher Anthony Butler (St. Lawrence), not having a single baserunner caught throughout the game. The base running rattled the Dragons pitchers and caused four wild pitches.
Matt Pierce (Siena) made his first start of the season, encompassing both his time with the Dutchmen and his time at Siena. He responded by being in command for six scoreless innings, striking out two, not walking a batter, and picking up the win.
Mike Pepio (East Stroudsburg) pitched three shutdown innings in relief of Pierce, as he retired all nine batters he faced, striking out five of them, including striking out the side in the ninth inning. He did all of this on an efficient 34 pitches.
The game will be Town of Colonie night at the ballpark, as all people from Colonie will receive free admission to the game. It will also be Wet Willy's Car Wash Night, as all fans 18 years of age and older will receive a certificate for a free car wash from Wet Willy's ($9 value).