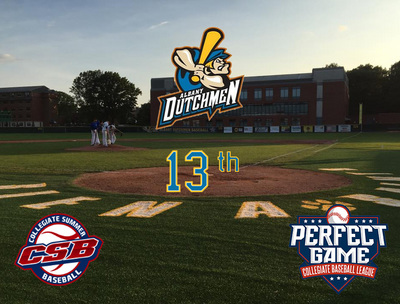 June 22, 2017
ALBANY, N.Y.- The Albany Dutchmen (10-4) were ranked in Collegiate Summer Baseball's "Top 30" national rank for the first weekly ranking of the summer. The Dutchmen checked in at #13 on the list.
The online weekly ranking covers 30 summer collegiate baseball leagues consisting of over 250 teams spanning across the nation. The top spot in the first weekly ranking was claimed by the Wisconsin Rapids Rafters of the Northwoods League.
The Dutchmen were joined on SCB's list by cross-divisional PGCBL foe Jamestown Jammers, who are off to an 11-4 start, and hold a one game lead in the West Division. They were slotted at #9 on the list.
The Dutchmen's presence in the Top 30 can be accredited to consistency both on the mound and at the plate. Albany is led offensively by Trace Tyre (Ole Miss) who is second in the PGCBL in hitting at a clip of .396. He is tied for 5th in the league with 19 hits.
The team is tied for the league-lead in doubles at 30, third in the league with 55 team-RBIs, and at the top of the charts in stolen bases with 37. That speed factor combined with striking out less than any team in the league puts pressure on opponents' defenses, leading to many extra runs.
Dutchmen pitchers boast the second lowest team-ERA in the PGCBL at 3.15. The pitching staff leads the league by allowing just 49 runs thus far. They have also surrendered the second fewest base hits in the league at 104. The resume is also padded by a 4-3 exhibition victory over the Tri-City ValleyCats, MiLB affiliate of the Houston Astros.
Four Dutchmen pitchers with at least four innings pitched have sub-2.0 ERAs. Justin Bureau (Ave Maria) anchors the bullpen by tossing 8.1 scoreless innings in relief while accumulating three saves thus far. He has not yet walked a batter and has 9 strikeouts. Batters are hitting just .172 against him and his 0.6 WHIP (Walks plus hits per inning pitched) is fourth best in the league for qualified pitchers.
Albany will be back in action Friday (6/23) for a doubleheader against division rival Glens Falls Dragons at East Field in Glens Falls. Game one will begin at 5pm. The Dutchmen are back home at Siena Field this weekend for C.H. Evans Brewing Night against the Onondaga Flames on Saturday and Sunday is CDTA Kids in Free Night with a rematch against the Dragons. Both games start at 5:05.