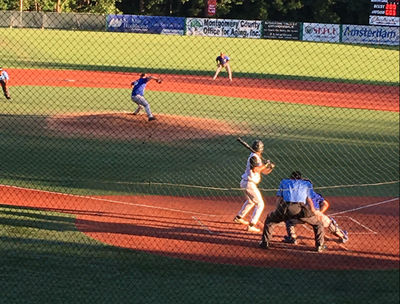 July 3rd, 2017
AMSTERDAM N.Y. – After playing two games against the Mohawks yesterday, the Dutchmen drop tonight's game to Amsterdam by a score of 6-4.
Albany got out to an early lead in tonight's contest, scoring two runs in the bottom of the first, off of two RBI singles by Nick Estrella (Azusa Pacific) and Justin Childers (Ohio Dominican).
Thomas Spinelli (Ole Miss) took the mound tonight for Albany and started out with two scoreless innings, despite struggling a bit with control, allowing a few walks. He took a hit in the bottom of the 3rd, allowing three runs off of a Matt Gorski (Indiana) two RBI single and a Dylan Reynolds (Fairfield) RBI single.
Matt Pierce (Siena) came on in relief for Spinelli, pitching 1.1 strong innings, with two strikeouts.
Trace Norkus (North Florida) made his first appearance this season, pitching for the Dutchmen in relief for Pierce. He gave up a two-run home run to Eric Rivera (Florida Atlantic), allowing the Mohawks to extend their lead to three, making the score 5-2 after the 5th.
Albany made a strong attempt to battle back, scoring two runs in the top half of the 7th. Adam Elliot (Louisville) recorded his first hit of the season, which allowed Zach Durfee (Siena) to score. Nick Estrella was able to continue his recent hot streak by driving in Elliot, making their deficit to only one run.
Mac Welsh (Louisville) came into the game in the bottom of the 7th in an attempt to limit Amsterdam from increasing their lead. Welsh balked with Liam Wilson (Canisius) at the plate, which allowed Matt Gorski to cross the plate, making the score 6-4.
Carter Knapek (UMass) finished the game on the mound for Amsterdam and shut the Albany offense down, recording his fourth save of the year.
Amsterdam starting pitcher Andrew Saalfrank (Indiana) recorded his third win of the season, while Thomas Spinelli drops to an 0-2 record on the year.
With this loss, Albany falls to 4.5 games behind the Amsterdam Mohawks for first place in the East Division of the PGCBL with a 13-10 record, as Amsterdam improves their record to 19-7.
The Dutchmen are back in action tomorrow night to take on the Saugerties Stallions at Cantine Memorial Veterans Field. First pitch is at 6PM on the night of Independence Day.