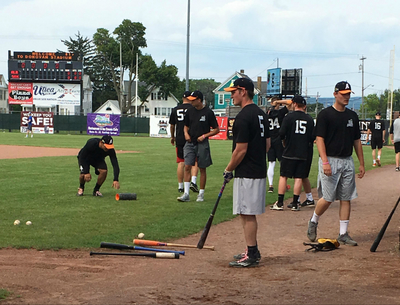 July 10th, 2017
UTICA, N.Y. - The bats exploded for the Dutchmen in Monday night's 17-7 win on the road over the Utica Blue Sox, advancing Albany to 19-11 on the season.
Brad Gneiting (Rice) was the stand out in the ten run win going 6-7, scoring five runs and knocking in a batter.
The Dutchmen have now scored in double figures in four of its last seven games. The 17 run showing was just two runs shy of matching the franchise record for runs scored in a game set in 2013 and matched in 2015.
Albany did not waste much time getting to Utica putting up four runs in the top of the first inning against the Blue Sox's starting pitcher Garret Keough (Holy Cross) capped off by a Colin Kaucher (Ohio Dominican) single that scored Brandt Holland (North Alabama).
The Dutchmen would put up another four spot in the third highlighted by an Adam Elliott (Louisville) two RBI single to take a 9-0 lead and run Keough out of the game. Eight of the nine runs were earned.
The Dutchmen sent Thomas Spinelli (Florida Southern) to the mound Monday night and he put together a solid outing through four innings, surrendering just one run in the fourth on a Zane Harris (Wright State) RBI single.
But things really unraveled for Spinelli and the Dutchmen in the fifth where he didn't record an out, but picked up three more earned runs off a single and a wild pitch allowed by his replacement, Mike Pepio (East Stroudsburg).
Later in the inning, Pepio gave up a three run shot to Harris capping off a six run fifth inning and bringing the score to 9-7 Dutchmen.
With Albany's lead trimmed to two, the bats came roaring back in the top of the sixth putting up the teams third four spot of the night. Elliott got the job done again roping a double off Dino Faresse (Dominican) scoring Kaucher and Chase Allen (Limestone), giving Albany the 13-7 lead.
With a six run cushion, the Dutchmen bullpen finished off strong. Pepio pitched a scoreless sixth, followed by Trace Norkus (North Florida) and Mac Welsh (Louisville) combining to pitch the last three innings giving up no runs, striking out five and surrendering just one hit.
Albany went on to tack on four more insurance runs, scoring two in the eighth of a Zach Durfee (Siena) RBI double and a Justin Decker (Dominican) RBI single. Both runs scored in the ninth were unearned on the Blue Sox pitchers.
The Dutchmen are off Tuesday and back in action hosting the Glens Falls Dragons Wednesday at 5:05 p.m. on Teacher Recognition Night, where all teachers receive free admission.
The following home game is Saturday against the first place Amsterdam Mohawks on Northeast Commercial Printing Night where all fans in attendance receive a free team poster. First pitch set for 5:05 p.m.