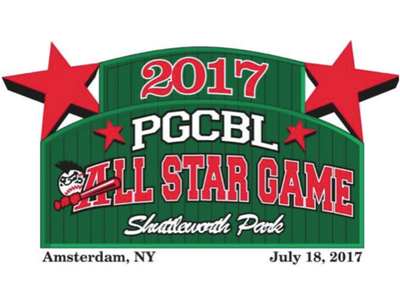 July 13th, 2017
ALBANY, N.Y. - The 2017 Perfect Game Collegiate Baseball League (PGCBL) All Star Game is set to take place on July 18th at Shuttleworth Park, the home of the Amsterdam Mohawks.
Four Dutchmen players have been named to the eastern division All-Star roster.
Matt Pierce (Siena) has pitched to a 1.44 ERA in nine games so far this season and is sporting a 5-1 record. Pierce has the best ERA in the PGCBL of those who qualify. Pierce has struck out 19 batters in his 25 innings of work and walked just five batters.
Pierce is joined on the All-Star team by his college teammate Tommy Miller who has been a mainstay in the Dutchmen rotation. Miller has started five games this season and has a 3-0 record with a 2.45 ERA. Albany is 5-0 in games that Miller has pitched in. The Castleton, New York native has never allowed more than two runs to score in a start this summer.
The final pitcher nominated to the All-Star team representing Albany is Justin Bureau (Ave Maria) who has been a lights out closer for the Dutchmen so far this season.
In 12 games the righty has not allowed a single run and struck out 20 in 15 innings of work. Bureau is second in the league in saves with six and opposing hitters are batting just .154 against the Orange, California native.
The final player on the All-Star game roster representing the Dutchmen is Nick Estrella (Azusa Pacific) who has three triples and two home runs on the season. Estrella is hitting .282 and has batted in 18 runs this season.
Albany's Assistant Coach Bill Behrle will be coaching the East Division team.
First pitch for the All-Star Game is set for 7:00 p.m. All-Star day festivities also include a prospects game which is designed for players who have near All-Star numbers and player that have high MLB draft potential.
This season the Dutchmen are sending seven players to the prospect game. The first player is Trace Tyre (Ole Miss) who just finished his freshman year as a redshirt. This summer Tyre is batting .323 with 17 walks, 12 RBIs and 8 doubles.
Joining Tyre on the roster is last season's co-Player of the Year for Albany Justin Childers (Ohio Dominican) who has battled an ankle injury for much of the summer. In 19 games Childers is hitting .191 with seven doubles and 15 RBIs.
The final hitter named to the prospect game is Nick Gallo (Oklahoma State). So far this summer Gallo has been a constant threat all over the field, playing in the infield and the outfield. The West Palm Beach, Florida native is hitting .267 at the plate with 13 RBIs, 14 walks, nine steals, six doubles and a home run.
Among the pitchers representing Albany on the hill is Trace Norkus (North Florida) who was late joining the team and has appeared in just three games so far allowing three runs in 4.2 innings of work.
Roel Garcia (Rice) is joining Norkus on the roster and has also appeared in three games. The Deer Park, Texas native has pitched five innings and allowed just one run while striking out six.
Greg Marino (Stony Brook) is also heading to the prospects game for Albany and has put together a tremendous first half. The Centereach, New York native has a 2.10 ERA in four starts in PGCBL play and also pitched six inning of two run ball in a Dutchmen win against the Tri-City Valley Cats in an exhibition game earlier this season.
The final Dutchmen heading to the prospect game is Jack Grabek (Bucknell) who has seen action out of rotation and bullpen this summer. Grabek has struck out 23 batters in 19 innings of work this season and has an ERA of 4.73.
First pitch for the prospect game is set for 12:30 p.m.
There will also be a skills completion and a home run derby taking place in between the prospect game and All-Star game.
Chase Allen (Limestone) will be representing the Dutchmen in the derby, he has one home run this summer. This past season Allen hit 17 home runs with Limestone and ranked 20th in home runs for all of Division II baseball.
Those competing in the skills competion will be determined at a later date.