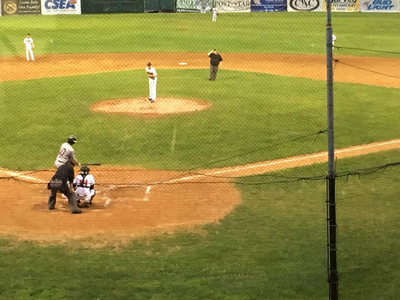 July 25th, 2017
GLENS FALLS, N.Y.- Greg Marino (Stony Brook) lowered his ERA to 1.67 by tossing seven shutout innings as the Albany Dutchmen (27-15) defeated the Glens Falls Dragons (15-29) by the score of 4-2 at East Field in Glens Falls on Tuesday evening.
The win for Marino was his second of the season, with his other being his masterpiece at Saugerties on Independence Day. He struck out eight Stallions in his seven innings of work, and allowed four hits. In all but one of his starts on the season, he has allowed one earned run or fewer. The only anomaly came on the Dutchmen's second game of the season, where he allowed three earned in three innings against the Dragons.
The Dutchmen scored first in the first inning when a wild pitch by Dragon's starter Will Van Beusekom (Marist) allowed Nick Gallo (Oklahoma State) to score, who began the two-out mini rally with a walk. The first of Brandt Holland's two doubles advanced him to third before scoring on the errant pitch.
Holland's second double scored a run in the third to give Albany the 2-0 lead. It scored Gallo who was at first following his second base on balls. Holland's two hits bumped his season average to .324, which is second in the team-lead in the cattegory behind only Brad Gneiting (Rice) at .331.
Collin Kaucher (Ohio Domincan) launched his first homerun of the season an inning later to give the Dutchmen a three-run cushion.
Gallo was in the mix again in the eighth when he drove in Nick Estrella (Azusa Pacific) with a double, after Estrella doubled immediately before.
With reliever Trace Norkus (North Florida) in the game for the Dutchmen replacing Marino, the Dragons scored twice to narrow the lead to two.
Norkus was able to excape the inning without further damage, bridging the gap to Dutchmen closer Justin Bureau (Ave Maria) who retired Glens Falls in order in the ninth. His league-lead in saves now stands at eight. He has now pitched 18 innigs of scoreless ball for the Dutchmen this summer. He has also now pitched his last four outings of 4.0 innings without allowing a baserunner.
The win for the Dutchmen creates a tie for second place in the East Division with the Mohawk Valley DiamondDawgs' (26-14) 6-2 win over the Utica Blue Sox (15-27) on Tuesday and 3-0 win over first-place Amsterdam on Monday.
The Dutchmen will play those DiamondDawgs Wednesday at home at Siena Field in a quasi-doubleheader. First pitch from the darkness halted game from June 15th with the score tied 3-3 in the tenth inning will begin at 3:30 pm. First pitch for the regularly scheduled game will be at 5:05 pm. The evening will be Spotlight Players of the Week Awards Night sponsored by M&T Bank.