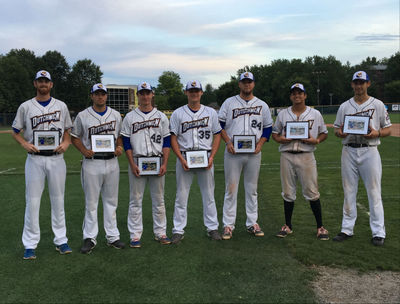 July 26th, 2017

ALBANY, N.Y. – Picking up a game from June 15th that was suspended due to darkness after nine innings with a 3-3 tie, the Mohawk Valley DiamondDawgs (26-15) and Albany Dutchmen (28-15) completed a 16 inning battle with Peyton Sockwell's (North Alabama) game winning walk off single, before game two was suspended due to darkness during the sixth inning.
The suspended game was dominated by pitching on both sides. Adam Elliott (Louisville) entered the game and pitched 4.1 hitless innings, only allowing one walk while striking out two. Elliott tossed three innings in which the DiamondDawgs went three up, three down.
On Mohawk Valley's side, Clay Chatham (Dartmouth) carried most of the bullpen load. He had pitched the final two innings on June 15th before the game was suspended due to darkness, then resumed today with six innings. Chatham took the tough luck loss, as he hit Justin Childers (Ohio Dominican) with a pitch to start the 16th inning, before being removed from the game. Jonathan Sell (Herkimer) came into the game in relief, allowing the game winning hit to Sockwell after a Griffen Herrera (Azusa Pacific) sacrifice bunt and a Zach Durfee (Siena) single. Chatham's eight innings, accounting for his two innings pitched on June 15th, saw him strike out 11 batters while not walking anybody and only allowing four hits.
The Dutchmen had an opportunity to end the game in the tenth inning. Trace Tyre (Ole Miss) led off with a single before being replaced by Jon Skidmore (Dallas Baptist). Skidmore was sacrificed to second base on a bunt by Brandt Holland (North Alabama). Albany could not capitalize on their two opportunities to deliver Skidmore, as Chris Villa (Seton Hall) and Herrera were set down following Chase Allen's (Limestone) hit by pitch.
Following Elliott, Jeremiah Burke (Georgetown), JD Mundt (Louisville), and Justin Bureau (Ave Maria) combined to pitch 2.2 innings of scoreless baseball. Bureau's outing was particularly notable, as he entered with men on first and second with one out but worked out of the jam. Bureau retired all five men he faced and continued his lights out season, as he has not allowed a run in his 19.2 innings pitched this season.
The win for the Dutchmen allowed them to move one game ahead of Mohawk Valley in the race for the number two seed in the East. The DiamondDawgs are 0-4 against Albany and would travel to Siena Field for the one game first round playoff if they cannot regain the second spot in the division.
Game two did not get started until after 5:50 p.m. after originally being scheduled for 5:05 p.m. due to the length of the extra innings in the suspended game.
After the two teams traded scoreless baseball for three innings, the DiamondDawgs broke through for the first time on a two out single by Tom Moore (Saint Rose).
The Dutchmen answered right back, as after two easy outs, Mohawk Valley's infield defense imploded. Two consecutive errors were committed on routine ground balls to put runners at the corners. Skidmore, who was at first, attempted to steal second, but Moore's throw was off target, kicking off the glove of shortstop Alexis Monge-Rodriguez (Barry) to allow Sockwell to score an unearned run.
The ballgame fell apart for the DiamondDawgs in the bottom of the fifth inning. Tyre, Childers, Villa, and Herrera all delivered RBI singles, with an additional runs being scored on a bases loaded walk by Skidmore and a wild pitch. The six run frame for Albany saw Mohawk Valley use three different pitchers.
Herrera put together his first three hit game of the season for Albany, as he had three hits in four trips to the plate out of the leadoff spot in the lineup.
Tommy Miller (Siena) gave the Dutchmen another productive start, with 4.2 innings of one run baseball. Roel Garcia (Rice) pitched a scoreless inning in relief.
The game would be suspended in the bottom of the sixth inning with two outs. The count was 2-1 to Lucas Terwilliger (Adelphi) with Dan Deely (Sacramento State) on first base when the game was suspended. The game will be resumed the only other time these two teams meet, which takes place on Monday at Mohawk Valley. It is the last game of the regular season.
The Dutchmen have tomorrow off before hitting the road on Friday to take on Saugerties at 7:05 p.m. Albany returns to Siena Field for their final home regular season date on Saturday for a doubleheader against the Adirondack Trail Blazers. Game one will be at 3:00 p.m. with game two to follow. It will be fan and host family appreciation day at the ballpark along with a Wet Willy's Car Wash certificate giveaway, Alex's Lemonade Stand for childhood cancer, CSEA member night, and All-Stars Academy batting token giveaway, and the Dave & Buster's Street Team.


Video Highlights
Player Of The Game Interview
Box Score
Archived Game