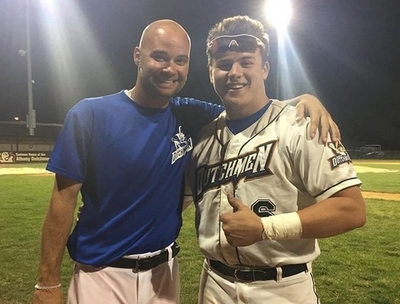 March 8th, 2018

In addition to the return of Head Coach Nick Davey for his ninth season in Albany, the Dutchmen are ecstatic to announce three members of the coaching staff will be joining the team once again for the 2018 season: Assistant Coach Bill Behrle, Assistant Coach Sean Buchanan, and Volunteer Assistant Scott Steltz. Behrle and Steltz will be returning from the 2017 staff, while Buchanan makes his return to Albany after two prior seasons with the Dutchmen.
"It's always nice as a coach to know that when you step into the dugout, you're going to step in the dugout with the same coaching staff," Davey said. "You're only as good as your coaching staff and that speaks truth here with these guys that are returning for us."
"We're extremely excited to have this staff returning," Vice President and General Manager, Jason Brinkman said. "They have all done so much for this organization over the years, really gone above and beyond all expectations. I can't say enough what it means to have this entire coaching staff come together."
Assistant Coach Bill Behrle is returning for his fifth season with the Dutchmen. Behrle helped lead the Dutchmen to two PGCBL Playoffs East Division Finals appearances in 2013 and 2016 in addition to the team's most successful season last summer with a record of 33-16, five more wins than their previous franchise high back in 2016.
"It's a pleasure to be able to work with great guys like Jason Brinkman, Paul Samulski (owner), Coach Davey, and the rest of the staff," Behrle said. "Just to be on the field and be able to coach the talented kids that we get every year from all different Division-1 and Division-2 programs. It's a blast and I'm so excited to be back with the organization."
Coach Davey remarked, "Having someone as dedicated as Billy has been to me in the dugout yet again makes coming to the ballpark enjoyable. Billy is very knowledgeable about the game and does a good job developing our guys on a day to day basis. He's an asset I definitely don't take for granted."
Behrle will focus on working with the Dutchmen hitters and catchers, while also assuming the role of third base coach.
In addition to his duties with the team, Bill lives in Albany, NY, where he is a teacher in the Albany School District. Behrle also plays in the annual Major League Baseball Hall of Fame Classic game (2014-present) in Cooperstown as a starting catcher. He's gotten the opportunity to play alongside baseball legends such as Pedro Martinez, Ivan "Pudge" Rodriguez and Goose Gossage. Behrle considers the game to be one of the true highlights of his summer every year and a 'dream come true' to play alongside some of baseball's all-time legends.

Assistant Coach Sean Buchanan returns to Albany for his third season with the Dutchmen organization. Sean previously served as an assistant coach in Albany during stints in 2013 & 2014. He has had roles on the coaching staffs at Ave Maria, Bard College, Dutchess Community College, New Paltz, and the Cooperstown Hawkeyes (PGCBL).
As the hitting coach at Ave Maria, Buchanan led the team to school records for home runs in three consecutive seasons from 2015-2017. In 2012, Buchanan helped to guide New Paltz to the highest team fielding percentage in program history and one of the best ever conference records.
Coach Davey raves about Buchanan's work ethic, strong knowledge of the game, and his expertise in player development.
"His college coaching achievements speak for themselves and I really look forward to having him back in Albany," Davey said.
Buchanan is looking forward to heading back to familiar surroundings as well.
"The Dutchmen organization has always treated me like family," Buchanan said. "Coach Davey, he's been a good friend to me and a mentor and I couldn't be happier to be on board. I'm thankful for the opportunity."
When not coaching baseball, Buchanan enjoys spending time at his family's summer home in Long Beach Island, NJ and is currently pursuing his master's degree in sport management.

Scott Steltz returns to the Dutchmen staff for his third season after 19 years of coaching high school baseball for his alma mater, the Chatham Panthers (NY). During his time at the helm in Chatham, he compiled a school record 260 wins, took the team to sectionals 16 times, and won 7 league titles in his final 10 years. Steltz has twice been named two-time American Baseball Coaches Association (ABCA) Region 1 Coach of the Year.
Prior to coaching the Panthers, Steltz played college baseball for Hudson Valley Community College and West Virginia Wesleyan. He resides in nearby Chatham, NY with his wife Shannon, twin boys Brayden and Cooper, and daughter Laney. Scott and Shannon have also previously served as Host Family Coordinators for the Dutchmen.
"Working with high level athletes like this is always fun and exciting for me as a coach," Steltz said. "I love this. Baseball is the best game on earth. Being a part of the organization as a part of the coaching staff- it's so exciting. I love doing this every summer."
"He's my Don Zimmer," Davey said when speaking about Steltz, referring to the former Yankees bench coach under Joe Torre. "He's someone that will always have my back and tell me if I did something wrong. He loves the game of baseball and this means so much to him."