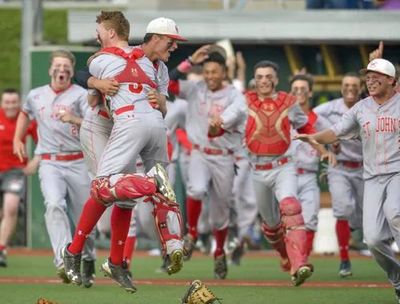 April 20, 2018
St John's finished 2017 with a 42-13 record, reaching their 36th NCAA Tournament appearance, a total that ranks ninth in the history of Division I baseball. The Red Storm continue to establish themselves as a powerhouse in the Big East Conference this season, sitting at first place in the conference, including a 5-2 victory over No. 6 North Carolina on the road in Chapel Hill. The Dutchmen are excited to bring a pair of future Red Storm players to Albany this summer: third baseman Justin Wright and catcher Mitchell Henshaw.
Wright, a high school senior at Hempfield Area High School in Greensburg, PA, will be joining the Red Storm in the Fall for his freshman season of college.
Currently ranked as the No. 3 third basemen in the 2018 class, Wright was named a 2018 Rawlings Perfect Game Honorable Mention.
Wright is currently batting .274 with 15 RBIs, 11 walks, and a .395 on base percentage this season with Hempfield.
Wright spent the summer of 2017 with Team All-Americans in Pennsylvania. He was extremely impressive, finishing with a .393 average, .452 on base percentage, 20 RBIs and seven walks.
After spending his first two collegiate baseball seasons with Potomac Community College in West Virginia, Henshaw will be transferring to St. John's in the fall.
The sophomore catcher has established himself as a strong bat and offensive leader for Potomac this season. In 31 games played, the Brockport, NY native is batting an impressive .380 batting average with 4 home runs and 21 RBIs.
His freshman season was also strong, as he finished with a .280 average from the plate to go along with three home runs and 43 RBIs in 48 games with the Catamounts.
Before his time with the Potomac, Henshaw attended Brockport High School.
The Dutchmen are excited to add two highly recruited and extremely talented players to the team for the 2018 campaign.