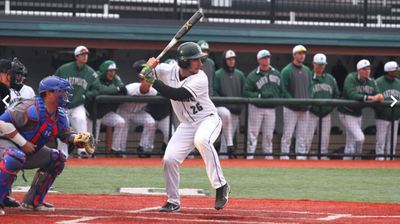 April 25, 2018
2018 Perfect Game USA Preseason Freshman of the Year Ubaldo Lopez (Dartmouth) and Brandon Seltzer (Fairleigh Dickinson) will be joining the Albany Dutchmen, adding two extremely talented outfielders from Northeast Division-I colleges. The Dutchmen previously announced the signings of Griffen Herrera and Zach Durfee, two returning outfielders from Azusa Pacific and Siena College respectively. These additions will play a huge role in solidifying the strength of the Albany outfield this summer at Siena Field.
Lopez builds on a strong alumni of Dutchmen coming to the team from Dartmouth including Joe Purritano (2013), Jackson Bubala (2016), and Adam Gauthier (2015). Purritano was drafted in the 15th round by the Cincinnati Reds in the 2015 MLB Draft.
Coming into the season selected as the Preseason Freshman of the Year, Lopez currently has four RBIs and six walks in 2018. The 2017 Rawlings Perfect Game Honorable Mention was rated as a top 100 player in the state of Florida coming into his college career.
A four year letter winner at Archbishop Edward A. McCarthy High School in Florida, Lopez helped lead the program to three consecutive Florida state titles. He drove in three runs in the state championship during his junior season.
Lopez was also honored as an All-Region Second Team selection as well as serving as team captain during his senior season.
Off the field, Lopez received various academic recognitions including AP Scholar with Honor, National Hispanic Scholar and National Commender Scholar.
Brandon Seltzer (Fairleigh Dickinson)
Currently this season, the sophomore outfielder is batting .224 with five RBIs in 34 games for Fairleigh Dickinson (all starts).
Seltzer has heated up as of late, with two of his strongest hitting games of the season coming in April. Seltzer was 2-for-4 with an RBI double versus vs Mount Saint Mary's. Four days later, he went 2-for-5 with a solo home run and two RBIs vs Saint Peter's on April 24th.
Serving as the Knights' primary center fielder in 2017, Seltzer batted .250 with 29 hits in 116 at bats, finishing with 21 runs scored, 13 RBI and an on base percentage of .367. He also stole 14 bases successfully in 18 attempts.
The seasoned veteran will be asked to provide production for the top of Dutchmen lineup and be a centerpiece of the outfield, just like he has done for Fairleigh Dickinson during his collegiate career.
Before his time with Fairleigh Dickinson, he attended Tottenville High School in Staten Island.
The Dutchmen are excited to have two very talented outfielders with experience in D-1 baseball joining the organization at Siena Field this season.