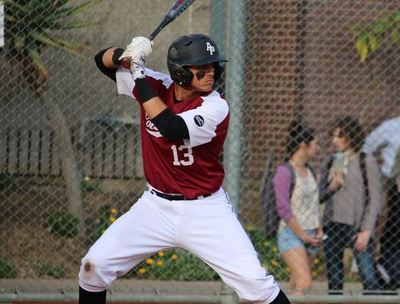 Nick Estrella (Azusa Pacific), a 2017 PGCBL All-Star and 2017 Arizona Daily Star Baseball Player of the Year, as well as Deaven Phillips (Tampa), a 2014 Perfect Game USA Undergraduate Honorable Mention, will be returning to the Albany Dutchmen for the 2018 campaign. Both Estrella and Phillips were key players on the Dutchmen's 2017 season, their most successful in team history with a 33-16 record. In total, the team has eight players from 2017 returning this season, the most ever in Dutchmen history (previous high: 2017 with five returners).
Estrella joins a strong list of alumni to represent the Dutchmen from Azusa Pacific including fellow 2018 returner Griffen Herrera (2016 Perfect Game Honorable Mention All-American), Mychael Goudreau (2016), Jon Reid (2015 MLB Draft 28th round selection by the Washington Nationals) and Sean Aspinall (2014 PGCBL All-Star). Five current Azusa Pacific players have played for the Dutchmen previously.
Estrella, a 2017 PGCBL All-Star, will be joining the Dutchmen for the second time in 2018. Along with five other former Dutchmen players, the 2017 Arizona Daily Star Baseball Player of the Year has helped lead Azusa Pacific to a top 15 ranking in the latest Perfect Game USA Division-II rankings with a 34-6 record.
He has proven to be an extremely valuable asset for Azusa Pacific this season, both from the mound and the batters box. In 36 games for the Cougars, the sophomore has four home runs and 18 RBIs. On the mound, Estrella is 1-1 with a 3.16 ERA and a remarkable 46 strikeouts in 37 innings pitched.
Last summer, Estrella was second on the Dutchmen with 28 RBIs in 45 games played while batting .308 and adding two home runs.
During his freshman season with the Cougars, he started 49 games, hitting .248 with four home runs and 22 RBIs. He finished second on the team with 127 defensive assists.
On top of that, he made three appearances out of the bullpen, posting a 3.00 ERA with three strikeouts in those outings. In his second collegiate game of his career, he went 3-for-4 with two home runs and three RBIs in a 13-12 loss to Cal State.
In two appearances in 2018, Phillips is 0-0 with two strikeouts in 2.1 innings pitched for Tampa University this season.
The 2014 Perfect Game Undergraduate Honorable Mention returns to the Dutchmen for the second consecutive season. During the 2017 season, Phillips was 2-1 in eight appearances, striking out 16 batters in 16.1 innings pitched.
Phillips transferred from Ave Maria to Tampa after his freshman season. Since it was from a NAIA to Division-II school, Phillips is eligible to play immediately. With the Gyrenes in 2017, he appeared in 12 games and started in four of them.
The 2015 Florida Region honorable mention had a 1-2 record in twelve appearances, finishing with 26 strikeouts in 32.2 innings pitched and a 5.79 ERA.
Dutchmen assistant coach Sean Buchanan spent three seasons at Ave Maria as a hitting coach and recruiting coordinator from 2015-17. Buchanan led the team to school records for home runs in his three consecutive seasons with the program.
Before his collegiate career, Phillips graduated from Pasco High School with Magna Cum Laude and was a member of the National Honor Society.