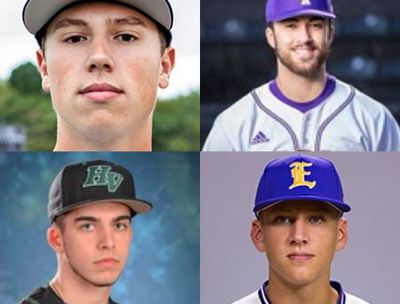 May 2, 2018
Four extremely talented and highly successful collegiate baseball players from D-II and NJCAA colleges will be joining the Dutchmen: James Rubino (HVCC- JUCO), the No.11 ranked LHP in NYS in 2017, Stephen Koza (LSU Eunice- JUCO), ranked the No. 9 pitcher in New Hampshire, Alex Schwartz (RCBC- JUCO), who broke the single season wins record (9) at Eastern Regional HS in NJ, and Nick Cummings (North Alabama- D-II), a key player on the No. 25 ranked team in D-II baseball, will all be sporting Dutchmen blue in 2018.
In five appearances for Hudson Valley Community College in 2018, the freshman Rubino is 3-1 with 26 strikeouts in 21.2 innings pitched.
Taking on Mohawk Valley Community College on April 10, Rubino had one of his strongest performances of the season, picking up the win going five innings while only allowing two earned runs and striking out one batter. Hudson Valley would go on to win the game 3-2.
He would follow up that outing with a strong performance versus SUNY Adirondack nine days later, going 3.2 innings and only letting up one earned run on three hits in a 15-2 victory.
Rubino had a short stint with the Dutchmen last summer, pitching in one game and allowing only one hit in 1/3 innings. He deals a mid 80's fastball that continues to improve. He will be one of two lefties on the roster and counted on heavily.
As a senior at the La Salle Institute in Troy, NY, he was ranked as the 11th best left-handed pitcher in NYS and selected as a Northeast Region Honorable Mention.
Cummings has been strong for North Alabama in seven appearances this season, striking out 17 batters over 14.1 innings pitched. He has not allowed a home run in 2018.
The Lions are currently ranked No. 25 in the latest Perfect Game USA Division-II baseball rankings with a 30-15 record this season.
The righty hurler is the teammate of former Dutchmen Brandt Holland, who currently leads UNA with a .364 batting average.
Peyton Sockwell, who received 2017 Gulf South Conference Academic Honor Roll recognition, is also a current UNA player and played with Albany last summer.
Cummings is expected to have a big role this summer and pitch a lot of meaningful innings for Coach Davey. With UNA transitioning to the D-I level, this summer will be a great experience for Cummings.
In five appearances his season, the sophomore Schwartz has 27 strikeouts in 29.2 innings pitched. He is third on the team with 8.19 strikeouts per nine innings pitched.
Schwartz spent summer 2017 with the South Florida Sailfish of the Collegiate League of the Palm Beaches. He finished with a 4.17 ERA over nine appearances, striking out 16 batters in 28 innings pitched.
Last season was an extremely successful freshman campaign for him as he was 5-5 with a 3.75 ERA in 11 appearances for the Barons. In 57.2 innings pitched, Schwartz struck out 59 batters.
An all-conference performer at Eastern Regional of Voorhees, NJ, he holds the Vikings' record for wins in a season with nine. As a sophomore, Schwartz helped lead the team to the 2013 NJ Group 4 State Championship.
Schwartz is a three-pitch pitcher with a fastball in the 89-91 mph range.
Ranked as the 9th overall player and 4th best right-handed pitcher in New Hampshire by Perfect Game USA, Koza has been an important part of the LSU Eunice pitching staff this season.
LSU Eunice earned the No. 7 ranking in the latest Perfect Game USA JUCO Baseball Rankings. The Bengals are currently 44-5 this season and have won a remarkable 24 of their last 25 games played.
In four appearances this season, the freshman has pitched 7.2 innings while striking out eight batters during that span and only walking three.
Koza returned to the mound mid way through the 2018 season after rehabbing from a minor surgery in the late Fall and is expected to be a part of the Dutchmen rotation. He pitches 88-90 MPH with a strong slider.
Just like Rubino, Koza was also selected as a 2017 Northeast Region Honorable Mention.
The Dutchmen are ecstatic to have these four players with strong college baseball experience joining the team for 2018.