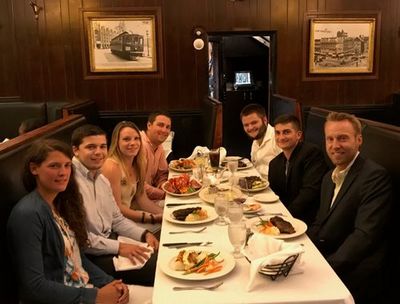 When Kyle Lancto walked onto the SUNY Cortland campus as a freshman back in the Fall of 2014, he had no clue what he wanted to pursue as a career.
What he did know: he loved sports. Growing up in nearby Schenectady, NY, he followed in the footsteps of his older brother Ken, choosing the Buffalo Sabres and New York Yankees as his two favorite teams.
Using that passion, he decided to sign up for a sports management class his freshman year, which led him to accept a year long internship recording stats for the Cortland softball team. Other students picked security or tickets. Lancto went in a different direction.
There he met Cortland's Sports Information Director Fran Elia, who has been at the university for over 25 years and oversees the publicity of all 25 Red Dragons sports teams. He's even regarded as the 'godfather' of the SUNYAC conference.
A few weeks in, he knew. He was hooked.
"I figured if I have to work for the rest of my life," Lancto said. "I might as well do something I like."
At the conclusion of his freshman year, Lancto landed a Promotions Internship with the TriCity ValleyCats, the single A-affiliate of the 2017 World Series Champion Houston Astros.
His roles included assisting in game day preparations and entertainment such as on and off field promotions in between innings over the course of the MiLB season.
Lancto worked with the team for two years during Summers 2015 and 2016, during the time that the ValleyCats had started their annual exhibition games versus the Albany Dutchmen. He was actually even friends with one of the players on the Dutchmen roster, pitcher Chris Amorosi who also attended Siena College.
His time with the ValleyCats was also when Kyle met Dutchmen assistant coach Sean Buchanan, who is returning for his third season with the team this summer. Lancto recalls only meeting Buchanan once over the course of Summer 2017 but the relationship turned into so much more.
"I show up to Cortland and I walk in and there's Sean in the fall [semester]," Lancto says. "I'm thinking, hey I know you! We've worked together a lot since then. He does a ton of the video work here as GA (Graduate Assistant)."
Sean is also the Sports Information GA at Cortland and is in charge of all the live video streams for their sporting events. Buchanan and Lancto are great friends and love to text back and forth. The subject of course - baseball.
When the winter months approached, Lancto remembered his Dutchmen connection. His professor, who taught a video broadcasting class he was taking, encouraged him to apply for an internship position with the Dutchmen. He believed Kyle was more than qualified.
A few days later, Lancto was on the phone with Vice President & General Manager, Jason Brinkman. The position was his.
He came in to the summer of 2017 only expecting to be involved in video broadcasting, but before he knew it he was doing everything from helping produce live streams, some fill-in public address announcing, and writing game recaps for the Dutchmen website.
Being involved with so many things, he remembers being a little overwhelmed at first, but knew his previous internships and courses taken at Cortland had prepared him well for the opportunity.
"Looking back at it now, I'm so glad it happened like that. I learned so much."
Now just one year later after serving as a Media Relations Intern last summer, Lancto will return to Siena Field in 2018, except this time in a very prestigious supervisory role: Assistant General Manager.
"I'm so excited. There's nothing better than baseball in the summer. If I can work at a baseball field where it's sunny most days and watch some baseball. Sign me up."
It's not Lancto's first leadership position. While at Cortland, he served as the Head Supervisor for SUNY Cortland Intramural Sports since his freshman year. He's worked with students that were two or three years older than him.
Lancto is excited about the challenge that comes with a position like Assistant GM. He knows things will be much different this summer than last. One of those being having a supervisory role over his peers, people that he worked with directly last summer.
"We're ecstatic to have Kyle on board as an Assistant GM," said Brinkman. "His hard work, maturity, and experience really stood out last season and we were excited to offer him the position. I look forward to working closely with Kyle this summer."
The plan is for Lancto to go to graduate school in the fall as he pursues his dream of a career working as a Sports Information Director or in Media Relations for a professional sports team.
He hopes to follow in a long line of successful former Dutchmen Assistant General Managers including Rob Galm, a Production Assistant at ESPN, James Troutman, formerly of UAlbany Athletics and now the head of ticketing for the Albany Empire, and Billy Blake, now working in the horse racing industry in Santa Anita, CA.
At just 22 years old, the Schenectady, NY native has accomplished so much. The guy who grew up watching baseball with his brother and rooting for the Yankees will now be second in command of a Perfect Game Collegiate Baseball team. His advice for anyone interested in a career in sports is simple:
"If you are serious about doing it, know when to be a fan and know when not to be a fan. You have to realize this is business. When you're watching a game on TV, go ahead and be a fan. When you're working, writing a paper, or doing a presentation, take it seriously. It can take you far."