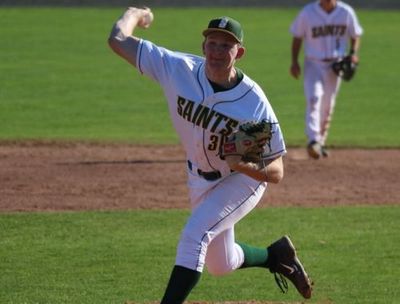 Three more right handed pitchers will be joining the Dutchmen, wrapping up this year's player signings: RHP Dylan D'Anna (Siena), who played in Albany back in 2016, as well as the Penmen duo of Nick Artymowicz (SNHU), ranked the seventh best catcher in NJ by Perfect Game USA in 2017, and Zachary Merchant (SNHU), are coming to Albany.
D'Anna will return to the Dutchmen for his second season after having a spectacular season in Albany back in 2016.
In four appearances for the Siena Saints this season, D'Anna has been impressive with nine strikeouts in eight innings pitched. He returned from a back injury and has pitched limited innings in 2018.
Over 17 outings for the Saints in 2017, finished with three wins and three saves. He posted a 2-0 record with two saves and eight strikeouts spanning 8.1 innings over his final four regular season appearances.
In 2016 with the Dutchmen, he tied the then record for wins in a season with five while also posting a 2.43 ERA and allowed just 43 hits in his 37 innings with 28 strikeouts. That record was then broken the following year when RHP Matt Pierce finished with a program record eight wins in 2017.
Before his time at Siena, D'Anna was a two-time All League and All County selection at Roy C Ketcham HS in Wappingers Falls, NY.
In nine appearances for SNHU in 2018 over 10.2 innings pitched, Merchant has 17 strikeouts and has allowed only four earned runs.
He will be an important part of the Dutchmen rotation along with Matt Pierce, the 2017 PGCBL Pitcher of the Year and last year's opening day starter Greg Marino.
Last season was strong as well for Merchant in limited action. In three appearances over 1.2 innings pitched, he allowed just one earned run.
Both Merchant and Artymowicz join SNHU pitcher Ryan Steffens, who played in Albany the last two seasons, as Penmen to sport Dutchmen blue.
Merchant deals 89-91 MPH with a strong slider. Head Coach Nick Davey describes him as having "swing and miss" stuff. Davey also believes as the summer progresses, SNHU head coach Scott Loiseau will see Merchant as someone who can be a big part of the Penmen's pitching staff in 2019.
Before attending SNHU, Merchant was a varsity letterman at St. Bernard's High School in Fitchburg, Massachusetts.
Ranked as the seventh best Catcher in New Jersey by Perfect Game USA in 2017, the 2016 Northeast Region Honorable Mention brings talent and experience to the Dutchmen organization.
After his sophomore year of high school, Artymowicz switched his position from pitcher to catcher and was recruited for collegiate baseball as a pitcher.
With 12 appearances for Southern New Hampshire this season, Artymowicz has proven to be a valuable asset for the Penmen from the pitchers mound. In 13.1 innings pitched, he is 2-1 with an impressive 21 strikeouts to only eight walks.
2017 was just as strong for him as he finished 2-2 in 14 appearances with a 2.14 ERA and 25 strikeouts over 21 innings pitched.
The righty hurler who pitches 89-92 with his fastball will be a stable in the Dutchmen rotation in 2018. As his secondary pitches improve, he will become even more dominant as a starting pitcher.
Before his time with SNHU, Artymowicz attended Ocean City High School in Ocean City, New Jersey.