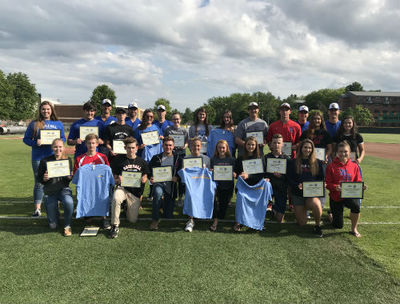 ALBANY, N.Y.- Anthony Ethington (Bellarmine) pitched seven innings and kept the Dutchmen offense to one run on four hits as the Glens Falls Dragons (3-2) defeated the Albany Dutchmen (3-1), 5-1, in PGCBL action on Thursday.
Sal Fusco (UMass Lowell) and Christian Allegretti (St. Thomas Aquinas) combined in relief for the Dragons in the win without allowing a hit. After Ethington walked the lead-off hitter in the eighth, Fusco entered the game and walked two batters to load the bases with nobody out. He struck out three hitters in a row to escape the jam.
Allegretti walked two in the ninth but helped himself with two strikeouts to convert the save.
The Dutchmen scored first in the bottom of the first when Cameron Masterman (Louisville) singled in Cameron Collett (Marshall) who doubled two batters earlier.
Masterman finished 2-for-4 with an RBI, while Collett was 1-for-4 and scored the Dutchmen's only run.
Glens Falls took the lead in the top of the fifth when Nick Kondo (Albany) hit a two-run single through the middle. Kondo finished 2-for-4 with a walk and two RBI.
Ryan Greco (Brockport) started for the Dutchmen and allowed two runs on three hits. He surrendered four walks and had one strikeout. Alex Schwartz (RCBC) pitched two and two thirds innings of one-hit relief with a pair of strikeouts.
In the eighth inning, Phoenix Hernandez (Southern New Hampshire) hit an RBI double and later scored to make the score 4-1. Matt Hamel (Siena) hit an RBI single in the ninth to make the score 5-1 before Allegretti shut the door for the save.
The Dutchmen are on the road Friday at Amsterdam for a 6:45 p.m. first pitch and play in Oneonta on Saturday night before returning home for a 5:05 p.m. scheduled game on Sunday where the Dutchmen will celebrate their tenth anniversary.
The Dragons return home on Friday to host the Saugerties Stallions at 7:05 p.m.