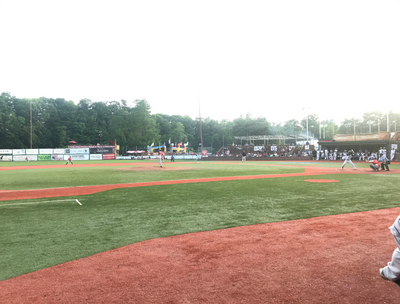 AMSTERDAM, N.Y- A three-run, four-hit bottom of the third inning gave the Amsterdam Mohawks (11-9) the lead, and they did not look back, as they defeated the Albany Dutchmen (9-9), 7-3, on Friday.
After Chris Lanzilli (Wake Forest) hit a single through the left side to begin the third, he stole second, moved to third on a ground out, and scored on a Jake Hammon (Morehead State) sacrifice fly. Then, after an infield error extended the inning, Richie Barrella (Manhattan) hit a two-run single to right field.
Amsterdam took a 4-0 lead in the fifth when Ryan Ludowig (Wake Forest) hit a one-out single and later came around to score on an infield single off the bat of Ben Rhodes (Herkimer).
Ludowig led the Mohawks at the plate. He finished 3-for-4 with two runs, a walk, and an RBI.
Deaven Phillips (Tampa) started and took the loss for the Dutchmen. He pitched five and a third innings and allowed four runs, two earned, on eight hits and three strikeouts.
Peyton Plumlee (Mississippi State) earned the win for Amsterdam. He went six scoreless innings and surrendered three hits with three walks and six strikeouts.
Golston Gillespie (Ole Miss) got the Dutchmen on the board in the seventh with his fourth home run of the year, a solo blast to left center.
Gillespie led the Dutchmen offensively. He finished 2-for-3 with a walk and the solo homer. Returning Dutchmen Nick Estrella (Azusa Pacific) made his season debut and went 2-for-4 with a pair of singles.
In the eighth inning, Lucas Dunn (Louisville) hit a triple off the right field wall before scoring on his college teammate Cameron Masterman's (Louisville) sacrifice fly. Masterman was awarded the sacrifice fly and RBI despite the outfielder committing an error on the play. He advanced all the way to third on the play, but was unable to score to cut the deficit any further.
In the bottom of the eighth, Mike Antico (St. John's) reached on a bunt single and advanced to third on two wild pitches, before scoring on an Elvis Peralta Jr. (Marshall) triple past the diving Dunn in centerfield. Two batters later, Ludowig singled him in with a line drive to center.
Albany picked up their final run in the ninth with back-to-back singles from Estrella and Cole McNamee (Wake Forest) and a sacrifice fly by Cameron Collett (Marshall).
The Dutchmen will return home on Saturday to host the Glens Falls Dragons at 5:05 pm. It will be The Hembold's Hot Dog Eating Contest, Hometown Heroes Night, and Souvenir Cup Giveaway.