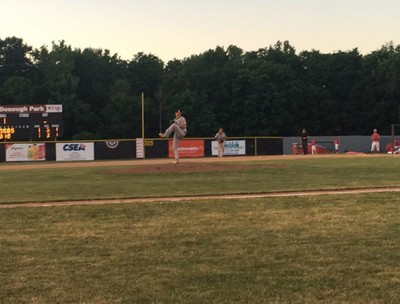 GENEVA, N.Y. - The Albany Dutchmen (12-11) traveled to Geneva, New York on Friday to take on the Geneva Red Wings (11-16), where they would split a double header.
Dutchmen 10, Red Wings 4
The Dutchmen scored ten runs on thirteen hits to get past Geneva in the first game. Lucas Dunn (Louisville went 4 for 5 with two runs and an RBI to lead the offense.
Albany scored the first runs of the game in the third inning when Nick Estrella (Azusa Pacific) singled in Brandon Seltzer (Palm Beach Atlantic) and Peter Burns (Boston College). A couple of batters later, Ryan Lutz (Seton Hall) got on base by way of error, that scored Estrella.
After Albany scored another run in the fourth, Geneva would pull within one after a three run bottom of the fourth inning that started off when Jack Harris (San Francisco State) scored on a ground ball double play off the bat of Craig Sandford (Hamilton College). Jared Gillis (Delaware State) would score on a wild pitch on the very next batter. Austin Jackson (Mendocino CC) scored on a Evan Magidan (Bucknell) single.
The Dutchmen scored four more in the seventh to make it a 10-6 lead, the score they would eventually win by.
Daeven Phillips (Tampa) got the win going five and one-third innings, allowing one earned runs on four hits while striking out five.
Nick Grabek (Fairfield) got the save in his one and two-third innings of work, where he allowed only two hits and struck out two.
Dutchmen 1, Red Wings 3 (8 inn.)
Despite having more hits (6) than the Red Wings (4) in game two of the Friday night double header, the dutchmen dropped the final game 3-1 in eight innings.
Albany scored their only run of the game in the first inning on a Cameron Masterman (Louisville) single that scored Estrella.
Geneva scored one in the fourth inning when Gillis scored on an error that was put into play by Lane Powell (Alabama Southern).
They would score again in the eighth to win it on a Tanner Murray (UC Davis) two-run home run.
The Dutchmen return home this weekend for two sets of double headers. The first on Saturday against the Oneonta Outlaws for the 10th anniversary Dutchmen cup giveaway courtesy of Gally's along with SEFCU Hometown Heroes night and Stewart's ice cream night. First pitch for the first game is set at 3:00 pm and the first pitch for the second game will be at approximately 5:00 pm. Sunday the Dutchmen are set to take on the Amsterdam Mohawks for Friends of Jaclyn Night in support of pediatric cancer and Cabot Cheese giveaway night, with first pitch for game one at 3:00 pm and first pitch for game two at 5:00 pm.