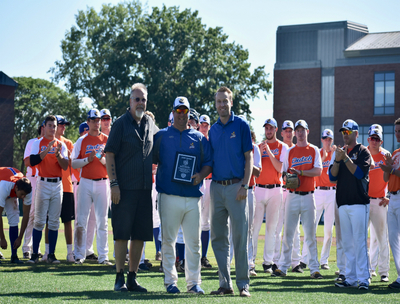 ALBANY, N.Y.- Dutchmen Head Coach Nick Davey earned his 200th and 201st victories as the Albany Dutchmen (14-11) swept the Oneonta Outlaws (10-16) in a doubleheader at Connors Park at Siena College on Saturday by the scores of 2-1 and 6-1, respectively.
Davey, the second head coach in Dutchmen history, has been at the helm for the past nine seasons, and led the Dutchmen to a franchise best record of 33-16 in 2017.
James Rubino (Hudson Valley CC) pitched five and a third quality innings of relief in the opener following an injury and Brandon Seltzer (Palm Beach Atlantic) went deep to lead the offensive attack in game one.
Zachary Merchant (Southern New Hampshire) tossed a complete game for the Dutchmen in game two. His only blemish was an unearned run in the top of the sixth. He allowed three hits and had nine strikeouts.
Dutchmen 2, Outlaws 1
After Dutchmen starter Luke Murphy (Vanderbilt) was removed due to an injury in the top of the first inning, Rubino entered and pitched five and a third innings while allowing a run on five hits with four strikeouts to earn his second win of the season.
Nick Bird (Albany) struck out two in the seventh to earn his first save of the campaign.
Seltzer got the scoring started in the bottom of the first with his second home run of the year, a towering shot to left field.
In the second, the Dutchmen scored an unearned run after Griffen Herrera (Azusa Pacific) reached on an error and later came around to score on a Ryan Lutz (Seton Hall) single to center field.
Oneonta answered with their lone run in the third after back-to-back singles by Kyle Ruedisili (Washington & Lee University) and Logan Thomason (Eastern Kentucky) before Ruedisili scored on a fielder's choice grounder with an infield error.
The Outlaws put the tying run on base in each of the final four innings but were unable to put a runner into scoring position.
Matt Bowman (Oswego) took the loss for Oneonta. He allowed both runs, one earned, on four hits over five innings. He struck out three and surrendered three walks.
Dutchmen 6, Outlaws 1
The Dutchmen raced to a five-run first inning highlighted by RBI doubles by Ubaldo Lopez (Dartmouth) and Cameron Masterman (Louisville).
Masterman finished 2-for-2 with two RBI and a run. Lopez was 1-for-2 with an RBI, run scored and a walk.
In the fourth inning, the Dutchmen picked up a run when Lucas Dunn (Louisville) walked, moved to second on a wild pitch, stole third, and came around to score on a Seltzer sacrifice fly to center field.
Oneonta's unearned run off Merchant came in the sixth inning with two outs when Thomason singled and Reudisili came around to score on a misplayed ball in the outfield.
Merchant retired the first 12 batters he faced. The Outlaws' first baserunner came in the fifth inning on a Tom Kretzler (Brockport) lead-off single.
The Dutchmen will return to action on Sunday with a doubleheader at home against the Amsterdam Mohawks. First pitch of game one is 3:00 pm. Both games are seven-inning contests.
Oneonta will travel to Glens Falls on Sunday for a 7:05 pm game with the Dragons.