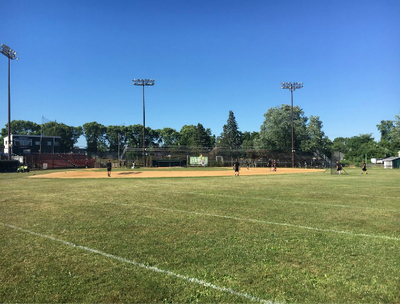 GLENS FALLS N.Y. - The Albany Dutchmen (16-12) fell to the Glens Falls Dragons (13-17) by a score of 7-5 in what was a sloppy defensive effort for the Dutchmen, leading to five unearned runs for the Dragons.
Steven Koza (LSU Eunice) took the mound for Albany and threw four innings of one-hit ball, but three errors allowed five unearned runs to score under his watch. The miscues began in the first when Nate Cobb (Malone) hit a double, but an overthrown ball allowed Nick Kondo (UAlbany) to score.
In the second, a passed ball and an infield error allowed Andrew Teixeria (Randolph-Macon) to score. The next batter, Kondo, was tagged out for the third out, but not before Cobb was able to cross home plate.
The Dutchmen would strike back in the third on the first home run of the season by Nick Jacques (Le Moyne) to bring the score to 3-1.
In the fourth, another error allowed Teixeria to reach second out of the box, and Zack Fritz (LIU Post) to score. Teixeria took third on a wild pitch, and a sac-fly by Cobb would bring him in to make the score 5-1.
Both teams scored a run in the fifth. The Dutchmen plated their run on an RBI single by newcomer Ryan Lutz (Seton Hall), while Dragons center-fielder, Brian Hart (Marist), went deep to bring the score to 6-2.
The Dutchmen were finally able to chase Dragons' starter Tom Taplin (Georgetown) in the eighth inning, and responded with a two-out, three-run home-run by Cole McNamee (Wake Forest).
Taplin was superb for the Dragons, firing seven innings of two-run ball, while striking out nine. Christian Allegretti (St. Thomas Aquinas) relieved Taplin in the eighth and promptly surrendered the home-run to McNamee. He finished his inning of work with three earned runs and one strikeout.
Heriberto Casasola (Reinhardt) earned his third save of the season by striking out three of the four batters he faced.
Dylan D'Anna (Siena) replaced Koza in the fifth. He threw three innings, giving up two earned runs, while racking up five strikeouts. Nick Artymowicz (SNHU) also had an inning of work, allowing no runs over one hit and one strikeout.
The Dutchmen will return to action Tuesday on the road against the Mohawk Valley Diamond Dawgs. Albany will return home on Saturday to take on the Amsterdam Mohawks at 5:05 for Team Poster Giveaway and Post Game Autographs.