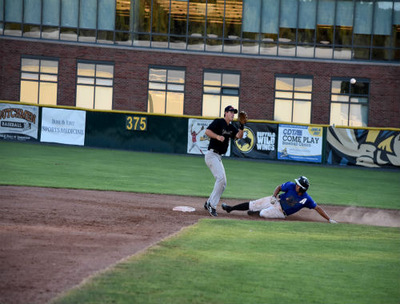 ALBANY, N.Y- Despite allowing a season-high seven walks, the Albany Dutchmen (19-14) pitching staff surrendered just four hits to the Saugerties Stallions (20-17) en route to an 8-5 victory.
With the win, the Dutchmen took sole possession of second place in the East Division. The Amsterdam Mohawks (22-15) hold the top spot with a one game lead. The top two seeds in each division advance to the playoffs, as well as the third seed in the division which has the team with the best overall record.
The Dutchmen took a two-run lead in the first after Lucas Dunn (Louisville) singled, stole second, and came around to score on an RBI single by Cameron Masterman (Louisville)
Dunn finished 2-for-4 with a triple, run scored, a walk, two RBI, and a stolen base. Masterman was 2-for-5 with a run and an RBI.
Saugerties tied it at two in the second on a bases-loaded walk to Danny Martin (Stetson) before Derek Ripp (Arkansas) hit a sacrifice fly one batter later.
Albany re-gained the lead in the bottom of the frame, for which they did not relinquish. Both runs came on Dunn's triple, which scored Cole McNamee (Wake Forest) who led off with a double, and Nick Jacques (LeMoyne), who walked.
Jacques was 2-for-3 with a run scored, two RBI, a walk, and a stolen base.
The Stallions' best chance to even the score came in the seventh. Three walks and a hit by pitch scored one, before another walk scored Martin two batters later. With the tying run at third, Dutchmen catcher Jerry Huntzinger (Seton Hall) chased down a potential wild pitch and flipped it to Dylan D'Anna (Siena) for the out at home to end the inning in what was a close play at the plate.
Then, in the bottom of the seventh, the Dutchmen scored three unearned runs on an infield error, catcher's interference, and a two-run single by Jacques.
Saugerties added one in the top of the ninth when Cam Coakley (Stetson) singled, and later came around on an infield error.
Nick Artymowicz (Southern New Hampshire) earned the win in relief. He pitched two hitless innings, surrendering two walks, and had two strikeouts. Stephen Koza (LSU Eunice) started for the Dutchmen and pitched three-plus innings, allowing two runs on two hits with one walk.
The Dutchmen will be off on Friday before returning home on Saturday to take on the Glens Falls Dragons at 5:05 pm on Saturday. It will be Phillips Hardware Night at the ballpark, with great prizes from Phillips Hardware and Stihl being given away all night.
The Stallions are also off on Friday before traveling to Amsterdam on Saturday to take on the Mohawks with a 6:45 pm first pitch.