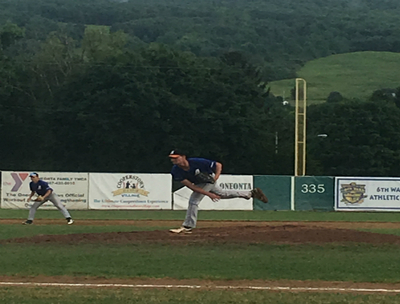 ONEONTA, N.Y.- After dropping a continued game that was suspended due to darkness on June 3rd with the Outlaws leading 12-5 in the eighth inning, the bats came alive in the scheduled "middle" game as the Albany Dutchmen (21-16) defeated the Oneonta Outlaws (16-23), 9-2.
The regularly scheduled game, the second "full" game, or third of the night, was canceled due to rain. It will not be rescheduled.
With seven games remaining, the Dutchmen currently trail the first-place Amsterdam Mohawks (25-15), who were idle on Monday, by two and a half games.
The Dutchmen will return home on Tuesday for a huge divisional matchup with the Saugerties Stallions at 5:05 pm for Guaranteed Win Night at the ballpark.
Outlaws 13, Dutchmen 9 (Cont. Game)
GAME RECAP UNTIL EIGHTH INNNING
Game continued from June 3rd. With runners at second and third with one out in the eighth and Oneonta already leading 12-5, Logan Thomason (Eastern Kentucky) hit a sacrifice fly to bump the Outlaw's lead to seven.
The Dutchmen put two runners on with walks in the bottom of the eighth but did not score. After an eventless top of the ninth, the Dutchmen scored three in the ninth, highlighted by a two-run double by Cameron Masterman (Louisville), but that's is how the score ended.
Dutchmen 9, Outlaws 2
A four-run first inning, led by a two-run double by Masterman and a two-run home run by Golston Gillespie (Ole Miss) catapulted the offense as the team compiled nine runs and 12 hits in the seven-inning contest.
All of the damage in the first came with two outs. Nick Estrella (Azusa Pacific) singled and after Ubaldo Lopez (Dartmouth) walked, Masterman ripped a double to left-center field before Gillespie launched his fifth long ball of the year.
In the third, Brandon Seltzer (Palm Beach Atlantic) and Estrella led off with singles and after Lopez was hit by a pitch, Gillespie racked up two more RBI with a single to center.
Gillespie led all hitters with a 2-for-3 game with a walk, four RBI, and two runs scored. Seltzer was 3-for-4 with three singles and a run.
Justin Wright (St. John's) hit a two-run triple in the fifth. The Dutchmen tacked on their final run in the sixth on an Estrella sacrifice fly.
The Outlaws scored both runs in the fifth on a Thomason two-run single.
Matt Pierce (Siena) picked up where he left off last start. He pitched six innings in the win and allowed two runs on three hits with a walk and three strikeouts.