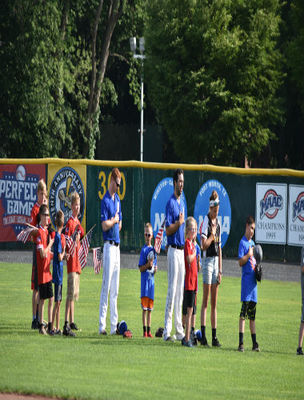 ALBANY, N.Y.- The Albany Dutchmen (24-16) clinched a berth to the PGCBL Playoffs with a 7-5 victory over the Saugerties Stallions (23-23) on Sunday night at Connors Park at Siena College.
The Dutchmen will play in a one-game playoff on Wednesday, with the opponent and location to be determined.
Prior to the game, the Dutchmen honored the 2018 Gally's Albany Dutchmen Player and Pitcher of the Year Awards. Right handed pitcher Deaven Phillips (Tampa) and infielder Cameron Masterman (Louisville) were recognized for their accomplishments this season with the Dutchmen.
A four-run bottom of the second highlighted by a two-run single by Zach Durfee (Siena) commenced the scoring for the Dutchmen. Durfee scored later on a fielder's choice, before a double steal scored Justin Wright (St. John's) from third.
The Stallions cut the deficit in half in the top of the fifth on a Jordan Kozicky (Maine) two-run home run to left field.
Kozicky finished 3-for-5 for Saugerties with a homer and a double.
The Dutchmen answered with one in the bottom of the frame. Jerry Huntzinger (Seton Hall) singled in Griffen Herrera (Azusa Pacific) to boost the lead to three.
Huntzinger led the Dutchmen offensively with a 3-for-4 performance with a run scored, an RBI, a double, and a stolen base.
Then, in the bottom of the sixth, the Dutchmen tacked on two more on a Herrera RBI single. Two batters later, Masterman hit a single up the middle to score one and the runner from second was gunned down at the plate.
The Stallions scored three times in the seventh, including a two-out, two-run single by Tyler Kelder (St. Bonaventure) and an infield throwing error that allowed Cameron Comer (Virginia) to score.
Saugerties threatened again in the eighth, and put the tying runs in scoring position with two outs. Dalton Harvey (Illinois State) entered and struck out the only hitter he faced to escape the jam with the lead intact.
Nick Bird (Albany) took over in the ninth and pitched a perfect frame, including a strikeout to end it, for his third save of the season.
Zach Merchant (Southern New Hampshire) took the win. Over six innings, he allowed two runs on eight hits with six strikeouts against just one walk.
Starter Zach Strickland (Georgia Southern) took the loss for the Stallions, who still have a chance to make the playoffs if the Amsterdam Mohawks (29-15) overtake the Jamestown Jammers (30-13) for the best record in the PGCBL.
The Dutchmen will hit the road on Monday to play the Glens Falls Dragons (14-27) in a doubleheader on the penultimate day of the regular season, before finishing the schedule with a game at Amsterdam on Tuesday.
The Stallions travel to Amsterdam on Monday before wrapping up their regular season in Watertown on Tuesday. Both games are at 7:05 pm.