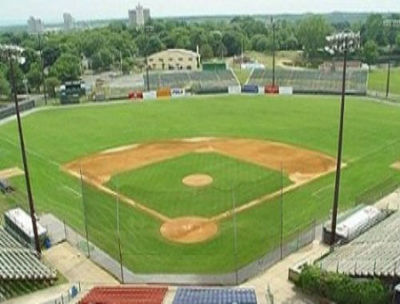 GLENS FALLS N.Y. - The Albany Dutchmen (25-17) split a doubleheader Monday evening against the Glens Falls Dragons (15-28).
Dutchmen 6, Dragons 2
The Dutchmen hit Dragons' starter Tom Taplin early, scoring in each of the first three innings. Nick Estrella (Asuza Pacific) homered in the top of the first to begin the scoring, with RBI-singles by Justin Wright (St. John's) and Brandon Seltzer (Palm Beach Atlantic) to follow in the second.
John Malcom (Vanderbilt) singled in another run in the third, Cole McNamee doing the same in the fifth. The Dutchmen scored their sixth run in the seventh on an infield error.
The Dragons briefly held the lead in the bottom of the first when they scored their only two runs off of starter, Matt Pierce (Siena). A catching error allowed one run to score, while an RBI-groundout brought home the second.
Pierce worked through four innings in a a winning effort, allowing two unearned runs over just two hits, while striking out three.
Nick Grabek (Fairfield) was light-out in relief of Pierce. Grabek fired three shutout innings, only giving up two hits while striking out five.
Dutchmen 1, Dragons 3
In the nightcap, pitching proved to be the difference-maker once again, as Dragons' pitchers Christian Allegretti (St. Thomas Aquinas) and Julien Arcos (LIU Post) together allowed just one run on four hits, while striking out eight.
The Dutchmen struck first however, scoring their only run in the second inning on an error by the Dragons' catcher Anthony Vaglica (LIU Post).
The Dragons scored one run in the fourth, fifth, and sixth innings in the winning effort.
Vaglica stole home in the fourth, in what was part of a double steal by Glens Falls, to tie the game at one. An RBI-single by Josh Arndt (Cornell) and RBI-groundout in the next two innings rounded out the scoring.
Nick Artymowicz (SNHU) took the loss for Albany, surrendering two earned runs over 2 ⅓ innings of work. Dylan D'Anna (Siena) started the game however, throwing two innings of no-hit baseball.
The Dutchmen will take on the Amsterdam Mohawks in Amsterdam on Wednesday, in the first round of the PGCBL playoffs.