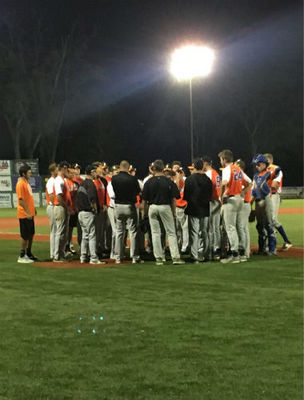 AMSTERDAM, N.Y. - The Albany Dutchmen (26-17) used three pitchers to limit the PGCBL East Division Champions, Amsterdam Mohawks (29-17), to a run on just one hit, as the Dutchmen won 6-1 in the final day of the regular season on Tuesday.
The Dutchmen and Mohawks will play again Wednesday night, August 1st in a one game playoff at Shuttleworth Park, with first pitch at 6:45 PM.
If the Dutchmen win, they will host game one of the PGCBL Semi-Finals at Connors Park at Siena College on Thursday at 5:05 pm in a best two-out-of-three game series.
Brandon Seltzer (Palm Beach Atlantic) went 2-for-2, driving in four runs to lead the Dutchmen offensively.
The game was scoreless until the bottom of the fifth when Jake Hammon (Morehead State) singled in Elvis Peralta Jr. (Marshall) to give Amsterdam a 1-0 lead.
The Dutchmen responded in the top of the sixth when Griffen herrera (Azusa Pacific) singled home Lucas Dunn (Louisville) to tie it up at one a piece. The very next batter Brandon Seltzer (Palm Beach Atlantic) hit a two-run home run for his fourth home run on the season to give the Dutchmen a 3-1 lead.
In the seventh Zach Durfee (Siena) singled in Nick Estrella (Azusa Pacific) to extend the Albany lead to 4-1. Seltzer followed up his previous at-bat with a double to score Dunn and Durfee.
After seven the Dutchmen led 6-1 and it would stay that way the remainder of the night
Dino Ferrarese (Dominican) earned the win on the mound for the Dutchmen throwing 2.1 innings allowing no runs on no hits and striking out four.
Brad Busald (Indiana) got the loss for Amsterdam allowing three runs on four hits in 1.1 innings.