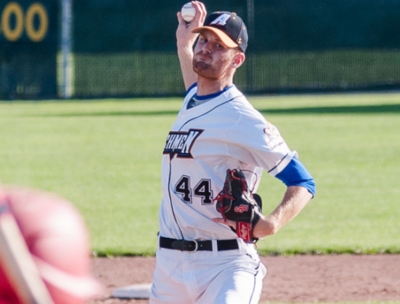 Monday, February 18th, 2019
The 2019 NCAA Division I baseball season got underway on Friday, with over 100 former Dutchmen in action on opening weekend. Here's a sampling of a few top performers from Week #1:
Greg Marino (Stony Brook, '17 & '18 Dutch): The two-time Dutchmen earned the opening day start for the Seawolves, hurling 5.0 innings and picking up the first win of the season. Marino, a redshirt-junior, recorded 5 K, 1 BB, 3 H, & 2 R in the 13-7 win over Florida International.
Nick Grande (Stony Brook , '18 Dutch): Grande started the season with high expectations and delivered on opening weekend. Entering the 2019 season, the junior was named First-Team Preseason All American by Collegiate Baseball and ranked the 15th best shortstop in the country by D1baseball.com. Grande helped guide the Seawolves to a 2-1 series win over Florida International, recording .333 BA (4/12), 1 2B, 1 HR, 3 R, & 2 RBI.
Tommy Miller (Siena, '17 Dutch): Siena opened play with a difficult 3 game series against road opponent Central Florida. Miller was given the nod on opening day and he delivered. Lasting 5.2 innings, the senior lefty logged 2 R, 6 H, 5 K, & 0 BB. Miller received a no decision in the team's 3-2 loss.
Max Cioffi (Ole Miss, '18 Dutch): The sophomore right hander made his season debut in fashion for the 10th ranked Rebels. Cioffi pitched 3.2 innings in relief (career high) and chalked 5 strikeouts (career high) while holding Wright State scoreless, giving up only one hit and one walk.
Lucas Dunn (Louisville, '18 Dutch): Dunn got off to a hot start at the plate for the 11th ranked Cardinals. He went 5/9 at the plate with an impressive extended stat line: 2B, HR, 3 R, 2 RBI, 2 BB. He was one of three former Dutchmen and 1 future Dutchmen (announced in the coming weeks) that saw action during opening weekend for Louisville.
Bradley Gneiting (Rice, '17 Dutch): Gneiting didn't let a 0/4 opening day affect his weekend's overall performance. He followed up the hitless Friday with consecutive 3/6 performances on Saturday and Sunday, helping the Owls take a 2-1 series victory over Rhode Island. Gneiting's stat line for the weekend finished with .375 BA (6/16), 5 R, 1 2B, & 2 RBI.
Kyle Skeels (Coastal Carolina, '16 Dutch): The redshirt junior catcher led the 25th ranked Chanticleers to a 3-0 opening weekend sweep in the Brittain Resorts Invitational (which they hosted) with wins over VCU, Maryland, and Campbell. Skeels posted a team best .500 average on 5/10 hitting. His final line included 3 R, 4 RBI, 4 BB, 1 2B, & 1 SB.