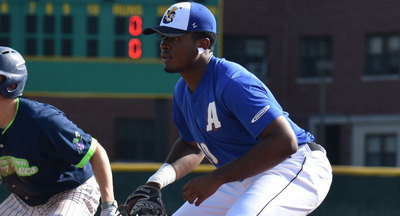 Monday, March 11th, 2019
John Malcolm (Vanderbilt, '18 Dutch): The true freshman picked up his first collegiate at bat for the #2 ranked Commodores. Coming in as a pinch hitter versus Davidson, he collected his first career RBI, grounding out in his debut.
Max Cioffi (Ole Miss, '18 Dutch): Cioffi picked up his first career win in a relief appearance against Little Rock. The sophomore threw 3.2 shutout innings en route to an 11-8 win for the 7th ranked Rebels. He also recorded a career high 7 strikeouts in the outing.
Kyle Skeels (Coastal Carolina, '16 Dutch): The 19th ranked Chanticleers picked up a key 2 game sweep against Wake Forest last week. In their 14-8 game two victory, the starting catcher had an eye opening day at the plate with an extended stat line that read: 3/3, 6 RBI, 3 R, HR, 2B, BB.
Lucas Dunn (Louisville, '18 Dutch): Dunn helped the Cardinals improve their ranking to 8th in the nation with a strong performance in a 10-9 win over Morehead State. Batting in the leadoff position, his 7th inning RBI single secured the winning run while his full stat line read: 3/5, 2 RBI, 2 R, 2B, SB. The sophomore utility player is now batting .340 on the season.
Colin Kaucher (Ohio Dominican, '17 Dutch): In a 5-4 11th inning win over Kutztown on Sunday, Kaucher stole the show. The senior was 3/3 and reached base 5 times- the only time he was left off the base paths was on a sacrifice fly. His final stat line read: HR, 2 BB, 2 RBI, 2 R. Kaucher is hitting .318 through the first 12 games of the season.